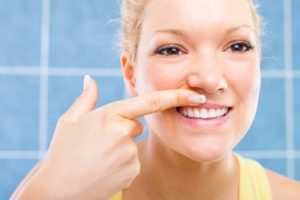 Did you know that gum disease has been found to increase the risk of major systemic health issues like diabetes, heart disease, and kidney disease? It even has been linked to Alzheimer's and certain kinds of cancer. Needless to say, protecting your gums from infection is an essential part of your overall well-being.
But how do you keep your gums strong and healthy? Here are six easy ways!
Brush and Floss Every Single Day
Other than checkup and cleaning appointments every six months, your daily hygiene routine is the most important habit you can develop to protect your gums from infection. When you brush twice and floss once each day, you keep plaque from sticking and hardening on your teeth, where inflammation-causing bacteria can accumulate.
Visit Your Dentist Regularly
Even with diligent at-home care, dental professionals are essential for keeping your smile strong. Your dentist checks your teeth and gums for any sign of infection, which can quickly be treated and fixed when caught early on. Then, your hygienist removes tartar that you may have missed in your brushing and flossing. This cleaning stops future gum infections from occurring.
Drink Lots of Water
Out of all the options for beverages, the best one for your gums, by far, is water. It neutralizes the acids produced by bacteria in the mouth and washes away plaque and bits of food. In other words, sipping water throughout the day can be an effective way of reducing the impact of oral bacteria on your gums.
Cut Back on Sugar
If you have a sweet tooth, it could put your gums in harm's way. The bacteria in your mouth become hyperactive with sugar, which means the more sugar you consume, the higher your chances of tooth decay as well as gum disease. On the other hand, if you limit the amount of sugar you have, whether through drinks or food, you can more easily keep these bacteria under control.
Stop Smoking
If you use tobacco products, you have plenty of reasons to quit. Not only can smoking harm your lungs and other organs, but it significantly increases the risk of gum disease and tooth loss. Do your best to end this habit to protect your smile from harmful bacteria.
Use an Antibacterial Mouthwash
For an extra boost in your daily hygiene routine, you could add in rinsing your mouth with an antibacterial mouthwash. There are also specially formulated mouthwashes specifically for dry mouth, for reinforcing tooth enamel, and more, so you can find the one that meets your needs.
Strong gums are crucial if you want to not only preserve your smile but also live a healthy lifestyle. By doing these simple things, you can prevent gum disease, keep your natural teeth, and enjoy a lifetime of smiles!
About the Practice
Williamsburg Dental is proud to serve Lincoln families and individuals, no matter where they live in and around the city. With six locations, chances are you have one of our practices close by. Our highly trained dentists can treat gum disease and other advanced oral conditions, but we would much rather prevent these issues from happening in the first place. Would you like to schedule an appointment with us? Contact one of our offices here to get started.