Invisalign® Orthodontics: Straight Teeth. No Braces.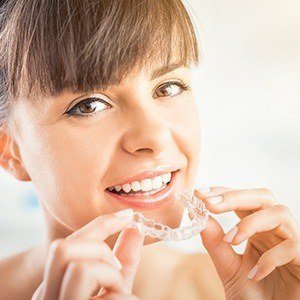 Do you avoid smiling freely because of crooked, gapped, spaced, turned, or crowded teeth? In the past, you may have considered orthodontic treatment, but decided against it because of the bulky, unsightly, and time-consuming treatment of traditional braces. That's why Williamsburg Dental now offers a discreet and convenient solution for busy adults. With Invisalign clear aligners, you can finally undergo the orthodontic treatment you need without sacrificing your self-confidence or lifestyle. The days of uncomfortable, awkward, and painful metal braces are long gone. Invisalign clear aligners are a cutting-edge orthodontic solution. If you're finally ready to get the straighter smile you've always wanted, make an appointment with Williamsburg Dental today.
The Benefits of Invisalign
Invisalign braces are undetectable. The transparent material of the clear aligners can do the same work as traditional brackets and wires braces, often in half the time. During your Invisalign treatment, you can smile confidently. Because the clear aligners are easily removable, you'll also be able to enjoy your favorite foods while keeping up good oral hygiene. In addition, you can also remove your aligners for important meetings and special occasions.
The Invisalign Process
Invisalign treatment generally takes one full year to complete, whereas orthodontic treatment with traditional braces can take over two years or more. After your initial consultation and exam, your dentist will take impressions of your teeth. This information will be sent to an Invisalign lab for 3D modeling and custom fabrication. After your first set of aligners arrive, you will wear them for a few weeks, receiving a new set every couple of weeks thereafter. Invisalign will shift your teeth incrementally until the desired results are attained. Your dentist will monitor your progress, but unlike traditional metal braces, no painful adjustments will be necessary.
Come Get Your Straighter Smile
There's no reason to put off the orthodontic treatment you need any longer. We can help you achieve the smile you've always wanted. Make an appointment with the highly qualified dentists of Williamsburg Dental today for your Invisalign consultation.
Cost of® Invisalign
For the most part, Invisalign can cost relatively the same amount as traditional braces. Of course, this total cost is unique to every patient who visits the office. During your consultation, you'll get the chance to discuss the number of aligners necessary for your treatment, how to properly care for them, and payment plans to make managing your treatment easy and straightforward. The more dedicated you are to treatment, the sooner you'll get your new straighter smile!
Learn More
Invisalign® FAQs
Not sure if Invisalign treatment is right for you? Need more information on what the process entails from consultation, to daily treatment to aftercare? Many patients ask these questions but aren't always able to schedule time for a consultation. That's why we've included a thorough FAQ to help patients become more prepared when they do come in. The more informed you can be on Invisalign, the better equipped you'll be to have the conversation with your doctor.