Dental Crowns – Lincoln, NE
Realistic Restorations for Damaged Teeth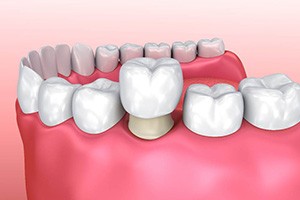 Whether you have a cracked or decayed tooth, composite resin filling may not be sufficient to keep the tooth in one piece, but you don't want to lose the tooth entirely. Fortunately, a dental crown serves as a "cap" over the tooth, covering the entire surface area. If you have a tooth in need of a dental crown, you can trust our team at Williamsburg Dental to create a completely custom, natural-looking restoration. Reach out to one of our offices for an appointment today!
What is a Dental Crown?
When the structural integrity of a tooth is compromised by deep decay or injury, a restoration called a crown may be placed in order to preserve the tooth, protecting it from further damage. This restoration may be fabricated using gold, metal alloys, ceramic, acrylic, porcelain, or a combination of these materials.
The Dental Crown Process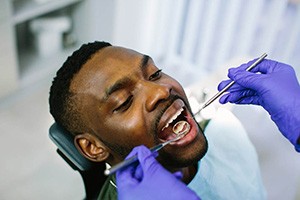 Getting a dental crown usually takes two separate appointments. During the first, you may undergo root canal therapy or another minor procedure where the tooth is altered to make space for the crown. After taking impressions of your upper and lower arches, we send this information to our lab. Before you exit the office, we attach a temporary crown to protect the tooth until the permanent one arrives. Then, you return for us to bond the custom crown in place.
The Benefits of Getting a Dental Crown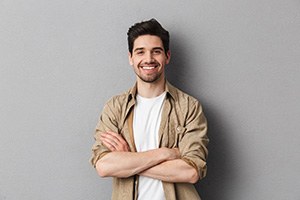 In many cases, a dental crown is the only treatment standing between preserving the tooth and losing it. In other words, getting a dental crown allows you to keep your natural tooth and better protect it against future infection or injury. Overall, dental crowns are able to do the following:
To protect a tooth that has been fractured
To prevent a weak tooth from chipping or fracturing in the future
To restore a tooth that has undergone endodontic therapy (root canal treatment)
To cosmetically enhance a tooth that is too small, misshapen, or badly discolored
To replace a filling in a tooth that has sustained too much damage for traditional fillings
To complete a single dental implant.
Understanding the Cost of Dental Crowns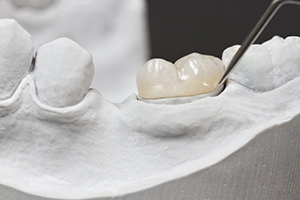 Before repairing your broken or decayed teeth, you may be wondering if you can afford it. The truth is that a dental crown is a smart investment in your long-term oral health, but we understand that cost plays a role in your decision making. After we've diagnosed the problem, we'll share our proposed treatment plan along with the cost involved. Keep in mind that we are willing to work with you and take away the financial stress of rebuilding your smile.
Factors That Affect the Cost of Dental Crowns
Not all crowns are priced the same amount. The total will change depending on several factors, including the type of materials used to make the crown like porcelain or metal fused to porcelain. We take advantage of many types of crowns, so the cost is a fairly wide range. The pricing will also be influenced by where in your mouth the crown will be placed. Molars require more durable and robust crowns, which means these restorations tend to cost more. During your consultation, we'll take all these factors into consideration.
Does Dental Insurance Cover Dental Crowns?
Yes, dental insurance coverage generally applies to dental crowns. However, you should know that it will pay about half the total cost for your crown, meaning you'll be responsible for paying the other half out-of-pocket. Our front desk team will research your policy to make sure you take advantage of all the benefits you are entitled to and save the maximum amount possible.
Options for Making Dental Crowns Affordable
In addition to being in-network with most insurance providers, we offer a few other ways to ease the financial strain of getting dental crowns. For example, we can accept payment through a flexible spending account (FSA) or a health savings account (HSA) if you have one through your employment. We can also walk you through the application for flexible financing, which allows you to pay for treatment on a monthly plan, instead of all at once.