Full & Partial Dentures – Lincoln, NE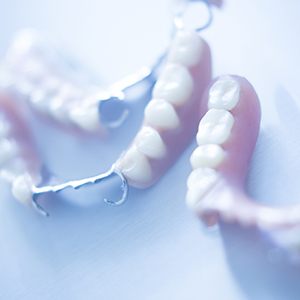 At Williamsburg Dental, your comfort is our top priority. We believe that your new dentures should look and feel just like your natural teeth. We understand the importance of properly fitted dentures. That's why we take the time to find the right dentures for our patients. When you come to us for your tooth replacement needs, you'll benefit from our caring, experienced, and attentive team. You can make an appointment today to restore your smile with a quality set of custom full and partial dentures in Lincoln, NE from Williamsburg Dental.
Why Do You Need Dentures?
Advanced gum disease, tooth decay, and accident or injury can all result in tooth loss. Missing teeth can cause your remaining teeth to shift out of position and misalign. Those surrounding teeth may also start to sag inwards, which can be unsightly and cause problems with biting and chewing food. Dentures can keep your natural teeth aligned and provide shape and tone to your cheeks and jaw to prevent a sunken or drawn appearance.
The Dentures Process
New advancements and materials in dental technology have vastly improved the dentures fabrication process. First, Williamsburg Dental will examine your mouth to ensure that your gums are healthy. Next, we will make a mold of your teeth using advanced imaging technology. This impression will be used as a blueprint for your new dentures to ensure that your individual needs are addressed. Custom fabrication is then carried out by a dental laboratory.
The Benefits of Dentures
Modern dentures in Lincoln are more natural-looking and fit better than ever before. Over time, tooth loss can cause changes in your facial structure, making you appear older, faster. Wearing properly-fitted dentures can prevent this by giving your cheeks shape and definition. For those with many missing teeth, dentures can also make it easier to eat, chew, and talk.
Understanding the Cost of Dentures
At first glance, you may think that all dentures should come at the same price for everyone. However, not all dentures are the same. During your consultation at one of our Williamsburg Dental locations, we can discuss your needs and goals and then create a personalized plan for your dentures. At that point, our team can gladly provide an idea of the cost involved. Below is information that can help you learn about the cost of this restorative treatment.
Factors that Affect the Cost of Dentures
Each set of dentures is customized to each unique patient. As a result, the cost often varies from person to person. The total price you pay for your dentures depends on several factors, including the following:
Whether you need preliminary work done (e.g., gum disease therapy, tooth extraction) before getting dentures.
Number and location of teeth being replaced.
Whether you are attaching your dentures to implants.
As you can see, with all these variables, it is difficult to even give you an estimated cost without first examining your mouth. Once we've completed your evaluation, we can then determine how much your dentures will be.
Are Implant Dentures More Expensive?
In general, implant-retained dentures tend to cost more upfront. However, in addition to the dentures themselves, you also get implants, which act like tooth roots. As a result, the jawbone remains strong, preserving your more youthful-looking profile. Perhaps more importantly, a healthy jawbone means that you won't have to replace or even adjust your dentures nearly as often. In fact, your dentures may last for more than 20 years with implants!
Does Dental Insurance Cover Dentures?
In most cases, insurance benefits include at least part of the cost of dentures. Your coverage will depend on your specific plan, and our team can walk you through the entire process and handle the claim forms for you. That way, you don't have to try to decipher your policy on your own. We'll help you look for ways to maximize your coverage so that your out-of-pocket expenses are kept as low as possible.
Other Options for Making Dentures Affordable
Dental insurance isn't the only way you can avoid paying full price for your dentures here at Williamsburg Dental. We also offer savings plans to our valued patients who don't have insurance! For a low annual fee, you not only get the preventive care you need to maintain your oral health, but you also get a 25 percent discount on restorative work, including dentures.
In addition, Williamsburg Dental goes the extra mile to help you manage your out-of-pocket costs. We make it easy to apply for affordable financing through CareCredit. In fact, if you qualify, you could have no interest at all, giving you additional savings!
Reclaim Your Smile Today
If you need help replacing missing teeth, or if you're looking for better fitting dentures, make an appointment with the highly qualified restorative dentists of Williamsburg Dental today. Our knowledgeable and compassionate team is ready to help you restore your smile and improve your overall quality of life.
Dentures Frequently Asked Questions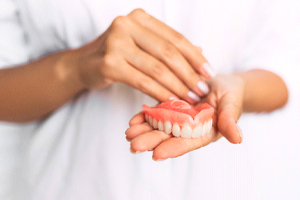 At Williamsburg Dental, we want our patients to be comfortable and confident in their decision to choose dentures in Lincoln. With this type of tooth replacement comes many questions, and over the years, our team has answered many of the most common inquiries posed by patients. Below you will find there to be a few of the most frequently asked questions as well as their corresponding answers. If you are unable to find the information you need, please don't hesitate to contact our dental office.
What should I do if my denture becomes loose?
You may notice as you age that your facial shape changes and your jaw becomes narrower. As a result, your denture may not fit as comfortably as it once did. It is at this time you will need to contact us so that our team can reline your restoration. This process allows them to fit properly and snug against your gums. To reline your dentures, it can be completed the same day and is often repeated every few years.
Will I need to brush my dentures like I would my regular teeth?
The rule of thumb when wearing dentures is to brush them regularly, preferably after every meal. It is best to brush the restoration as well as rinse out your mouth to flush out any remaining bacteria or particles. At night, you are advised to soak your dentures to help keep them moist. Otherwise, they can become brittle and warped. This is also a time to allow your jaw and gums a chance to breathe, taking some of the pressure off these areas. During the cleaning process, you should also remember to brush your tongue and gums using a soft-bristled toothbrush. Just remember to never use regular toothpaste on your dentures, as it is abrasive and can scratch the acrylic.
Are checkups and cleanings still necessary?
Yes! Although your teeth are artificial, there are still many common problems that can occur throughout your oral cavity. Unless otherwise noted, you will need to see your dentist every six months or once a year. This allows our team to ensure your restoration is comfortable and worn properly as well as make sure you are not developing signs of gum disease or oral cancer.
Will the artificial teeth of my partial denture match my natural tooth color?
When preparing the specifications for lab technicians to create your customized denture, our team will work to match the shade of the artificial teeth to that of your natural tooth color. That is, assuming it is a new denture. If you are concerned that your partial denture no longer matches your regular tooth color and is becoming more obvious to others, the only solution is to have a new one made to replace the old one.
How will my speech be affected while wearing dentures?
It is not uncommon to have somewhat of a lisp when you first start wearing dentures. Fortunately, this will go away over time and with plenty of practice. In the beginning, try reading and speaking more difficult words out loud. You might even stand in front of a mirror to watch how your mouth moves as you make each sound or syllable. Repeat these words until you feel more comfortable saying them. It may take some time, but after a week or so, you will feel more confident in your ability to speak with your dentures in.