Quality South Lincoln, NE Dentures from Williamsburg Dental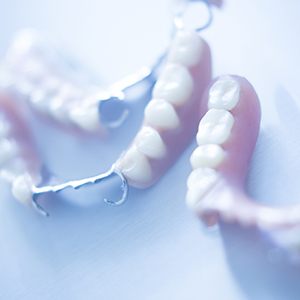 At Williamsburg Dental, your comfort is our top priority. We believe that your new dentures should look and feel just like your natural teeth. We understand the importance of properly fitted dentures. That's why we take the time to find the right dentures for our patients. When you come to us for your tooth replacement needs, you'll benefit from our caring, experienced, and attentive team. You can make an appointment today to restore your smile with a quality set of custom dentures in Lincoln from Williamsburg Dental.
Why Do You Need Dentures?
Advanced gum disease, tooth decay, and accident or injury can all result in tooth loss. Missing teeth can cause your remaining teeth to shift out of position and misalign. Those surrounding teeth may also start to sag inwards, which can be unsightly and cause problems with biting and chewing food. Dentures can keep your natural teeth aligned and provide shape and tone to your cheeks and jaw to prevent a sunken or drawn appearance.
The Dentures Process
New advancements and materials in dental technology have vastly improved the dentures fabrication process. First, Williamsburg Dental will examine your mouth to ensure that your gums are healthy. Next, we will make a mold of your teeth using advanced imaging technology. This impression will be used as a blueprint for your new dentures to ensure that your individual needs are addressed. Custom fabrication is then carried out by a dental laboratory.
The Benefits of Dentures
Modern dentures in Lincoln are more natural-looking and fit better than ever before. Over time, tooth loss can cause changes in your facial structure, making you appear older, faster. Wearing properly-fitted dentures can prevent this by giving your cheeks shape and definition. For those with many missing teeth, dentures can also make it easier to eat, chew, and talk.
Reclaim Your Smile Today
If you need help replacing missing teeth, or if you're looking for better fitting dentures, make an appointment with the highly qualified restorative dentists of Williamsburg Dental today. Our knowledgeable and compassionate team is ready to help you restore your smile and improve your overall quality of life.