Dentures – Lincoln, NE
Gain Confidence in Your Smile Again
Advanced gum disease, tooth decay, and accident or injury can all result in tooth loss. Missing teeth can cause your remaining teeth to shift out of position and misalign, which can be unsightly and lead to problems with biting and chewing food. Dentures can keep your natural teeth aligned and provide shape and tone to your cheeks and jaw to prevent a sunken or drawn appearance.
When you come to us for your tooth replacement needs, you'll benefit from our caring, experienced, and attentive team. We can create dentures that help you regain confidence and function. Make an appointment today to restore your smile with a quality set of custom full or partial dentures in Lincoln!
Why Choose Williamsburg Dental for Dentures?
Implant Dentures Offered In-House
Custom Restorations and Treatment Plan for Each Patient
Compassionate, Experienced Dental Team
Who is a Good Candidate for Dentures?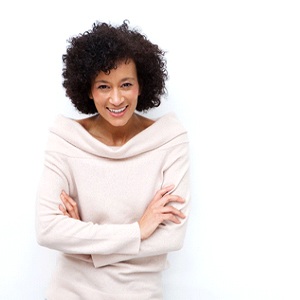 Before we provide you with new dentures, you need to be in good oral health. This means that if you have any unresolved issues like gum disease or decayed teeth, we will first address these problems. Otherwise, basically anyone who is missing two or more teeth qualifies for dentures.
Types of Dentures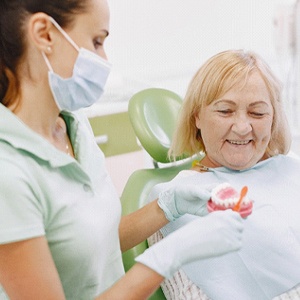 At Williamsburg Dental, your comfort is our top priority. We believe that your new dentures should look and feel as close to your natural teeth as possible. These dental prosthetic teeth are attached to gum-colored base and are made to blend in seamlessly. We understand the importance of properly fitted dentures for your self-confidence, which is why we take the time to customize dentures to your unique needs and mouth.
Partial Dentures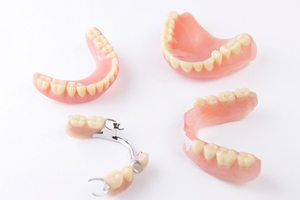 If you have some natural teeth remaining, we can create a partial denture to fill in the rest. Think of it as putting in the missing puzzle piece in your smile! This restoration typically attaches to the natural teeth via clasps.
Full Dentures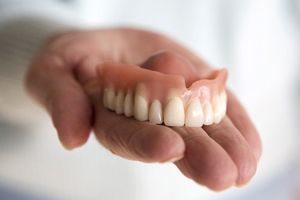 Even if you've lost all your natural teeth, a complete smile is within your reach. As the name implies, full dentures are used for patients who are missing a entire arch of teeth. These replacements are fabricated to fit snugly over your gums; in fact, they primarily use suction to stay in place.
Implant Dentures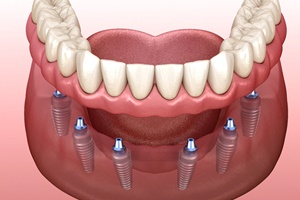 Would you like to take your dentures to the next level? Instead of having dentures that merely sit on top of the gums, you can secure your dentures to implants, which are embedded in the jawbone. As a result, you achieve much more stability, more biting strength, and a more natural look.
The Benefits of Dentures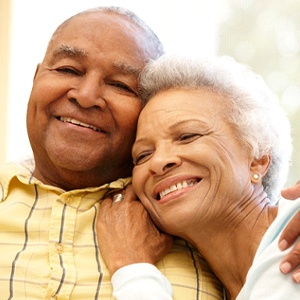 There's a reason why dentures are still a top choice for tooth replacement—they're affordable, and they work! Modern dentures in Lincoln are more realistic and fit better than ever before. Over time, tooth loss can cause changes in your facial structure, making you appear older, faster. Wearing properly-fitted dentures can prevent this by giving your cheeks shape and definition. For those with many missing teeth, dentures can also make it easier to eat, chew, and talk.
Understanding the Cost of Dentures
At first glance, you may think that all dentures should come at the same price for everyone. However, not all dentures are the same. During your consultation at one of our Williamsburg Dental locations, we can discuss your needs and goals and then create a personalized plan for your dentures. At that point, our team can gladly provide an idea of the cost involved. Below is information that can help you learn about the cost of this restorative treatment.
Factors that Affect the Cost of Dentures
Each set of dentures is customized to each unique patient. As a result, the cost often varies from person to person. The total price you pay for your dentures depends on several factors, including the following:
Whether you need preliminary work done (e.g., gum disease therapy, tooth extraction) before getting dentures.
Number and location of teeth being replaced.
Whether you are attaching your dentures to implants.
As you can see, with all these variables, it is difficult to even give you an estimated cost without first examining your mouth. Once we've completed your evaluation, we can then determine how much your dentures will be.
Are Implant Dentures More Expensive?
In general, implant-retained dentures tend to cost more upfront. However, in addition to the dentures themselves, you also get implants, which act like tooth roots. As a result, the jawbone remains strong, preserving your more youthful-looking profile. Perhaps more importantly, a healthy jawbone means that you won't have to replace or even adjust your dentures nearly as often. In fact, your dentures may last for more than 20 years with implants!
Does Dental Insurance Cover Dentures?
In most cases, insurance benefits include at least part of the cost of dentures. Your coverage will depend on your specific plan, and our team can walk you through the entire process and handle the claim forms for you. That way, you don't have to try to decipher your policy on your own. We'll help you look for ways to maximize your coverage so that your out-of-pocket expenses are kept as low as possible.
Other Options for Making Dentures Affordable
Dental insurance isn't the only way you can avoid paying full price for your dentures here at Williamsburg Dental. We also offer savings plans to our valued patients who don't have insurance! For a low annual fee, you not only get the preventive care you need to maintain your oral health, but you also get a 25 percent discount on restorative work, including dentures.
In addition, Williamsburg Dental goes the extra mile to help you manage your out-of-pocket costs. We make it easy to apply for affordable financing through CareCredit. In fact, if you qualify, you could have no interest at all, giving you additional savings!
Frequently Asked Questions about Dentures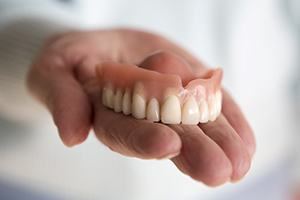 Replacing missing teeth is an important decision, which shouldn't be made without serious consideration. As a result, you may have questions about dentures in Crete before you choose which type is right for you. We welcome your inquiries! We've even taken the time to respond to some common questions below. If you have others, we can discuss them together at your consultation.
Why Do Teeth Need to Be Replaced?
Missing teeth are more than just a cosmetic concern. When you don't have strong teeth, you aren't able to bite or chew food as easily. As a result, you may have to eat softer foods, which tend to be less healthy and nutritious. This can lead to a poor quality of life and even a shorter life expectancy, according to scientific studies. If you still have natural teeth left, you may think you can function without filling in the gaps. However, remaining teeth can shift, causing your bite to change and potentially damaging these otherwise healthy teeth. That's why we recommend replacement for anyone who has lost a permanent tooth.
Does Dental Insurance Cover Dentures?
In general, dental insurance policies do cover part of the cost of dentures. This means you can save quite a bit of money on replacing your missing teeth. However, it's important to note that while the denture itself is usually covered, implants and the implant procedure are not. When we meet with you to discuss your denture options, we can look through your insurance plan and let you know what is and is not included. Whether you have insurance or not, you can always take advantage of flexible financing as well to make the cost more manageable.
How Long Do Dentures Last?
It depends. A large determining factor is how well you maintain your dentures. With the appropriate care, traditional dentures typically need to be replaced about every five to seven years with more frequent, smaller adjustments in between. Implant dentures, on the other hand, can last significantly longer—up to 30 years! If you want your dentures, whether normal or implant retained, to stay in excellent condition, you need to take care of them at home and continue to come in for regular checkups.
What Should I Do If My Denture Breaks?
Unfortunately, dentures are durable, but they can break if put under too much stress or dropped. If you find that your denture has broken, do not put it in your mouth. It may damage any remaining teeth, your gums, or other soft tissues. Give our office a call for an immediate appointment with Dr. Rossini. In rare cases, we may be able to adjust slightly damaged dentures, but we will likely need to take new impressions and replace them. We won't know for sure until we get a chance to examine them in person.