Nitrous Oxide Sedation in Lincoln, NE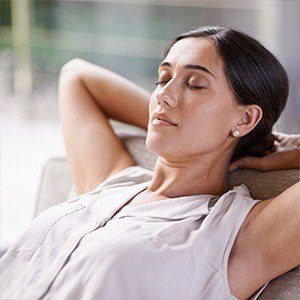 At Williamsburg Dental, we have many ways to make sure you are comfortable whenever you come to see us. We want to ensure that you always have a soothing experience at the dental office. Call us today and we can talk to you about how we can ease the nerves of going to the dentist.
Nitrous Sedation
Nitrous oxide, known to many as "laughing gas," is the most commonly used form of sedation in dentistry. It is extremely safe and effective, and it is administered by having a patient inhale the gas through a small nasal mask. You will fall into a euphoric state and feel completely relaxed within in a few minutes. All feelings of fear and anxiety will fade away, leaving you to sit back peacefully while your dental procedure is performed. In most cases, all dental work can be completed in one visit while you are sedated.
Oral Sedation
Sometimes a patient is extremely nervous about a certain dental treatment, such as getting their wisdom teeth extracted. For these procedures, our doctors may offer you oral sedation for a deeper and more pleasant experience. If you are interested in using sedation at your next appointment, please contact our office to set up a consultation.