Sedation Dentistry – Lincoln, NE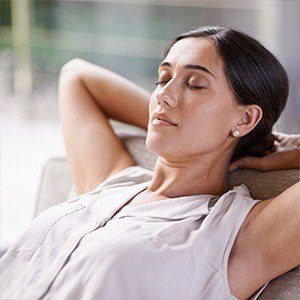 At Williamsburg Dental, we have many ways to make sure you are comfortable whenever you come to see us. We want to ensure that you always have a soothing experience at the dental office. Call us today and we can talk to you about how we can ease the nerves of going to the dentist with sedation dentistry in Lincoln, NE.
Nitrous Dental Sedation
Nitrous oxide, known to many as "laughing gas," is the most commonly used form of sedation in dentistry. It is extremely safe and effective, and it is administered by having a patient inhale the gas through a small nasal mask. You will fall into a euphoric state and feel completely relaxed within in a few minutes. All feelings of fear and anxiety will fade away, leaving you to sit back peacefully while your dental procedure is performed. In most cases, all dental work can be completed in one visit while you are sedated.
Oral Conscious Dental Sedation
Sometimes a patient is extremely nervous about a certain dental treatment, such as getting their wisdom teeth extracted. For these procedures, our doctors may offer you oral sedation for a deeper and more pleasant experience. If you are interested in using sedation at your next appointment, please contact our dental office to set up a consultation.
Frequently Asked Questions about Sedation Dentistry
Is sedation in dentistry a new concept for you? Perhaps you have questions about sedation and how it can help you have a comfortable experience in the dental chair. We want you to feel confident that you will feel completely at ease during your time with us. Take a few minutes to read our responses to some of the most commonly asked questions about sedation below. Then, if you have others that we don't answer here, you can give our team a call!
What are the benefits of nitrous oxide dental sedation?
Sedation with nitrous oxide is ideal for those who are undergoing simple, routine procedures, such as a checkup and cleaning or for those who experience mild dental anxiety. Also, its calming effects kick in within minutes and likewise wear off just as quickly after the appointment is finished, so you can return to your normal activities without any lasting side effects.
What are the benefits of oral conscious dental sedation?
Although you remain conscious with oral sedation, you enter a dream-like state. As a result, you will likely not remember details from the appointment, making this option particularly beneficial for those who struggle with more severe dental anxiety or fear. Keep in mind that you'll need to have a family member or friend drive you to and from our dental office because the effects of oral sedation can last for several hours.
How is oral conscious dental sedation administered?
Before your appointment, we'll prescribe a pill that you will ingest a few hours beforehand. By the time you arrive for your visit, you should feel perfectly content and relaxed, ready to get started. Because this form of sedation requires some preparation, it is important to talk to us about your dental anxiety well in advance.
Can nitrous oxide dental sedation be used for children?
Yes, it can! Nitrous oxide is gentle enough even for our youngest patients. If necessary, we can use nitrous oxide to help your child relax and have a positive dental experience. We are happy to do everything we can to set your child up for lifelong success in their dental health.
Is sedation dentistry right for me?
If the very thought of dental work has you feeling anxious or nervous, sedation may be a good choice for you. When you schedule your appointment, talk to our team about using sedation, and we'll gladly discuss your needs and options with you in more detail.