Digital X-Rays – Lincoln, NE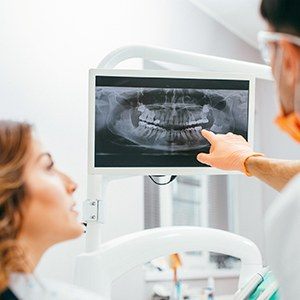 How do you feel about the overall health of your mouth? Are you actively brushing, flossing, and rinsing twice a day? Do you feel as if your teeth are in pristine condition? We hope that you feel that your oral health is in good standing, but even the most practiced cleaning routines can miss pockets of bacteria, plaque, and tartar. Leaving these areas unattended can lead to potential future oral health and hygiene problems. Seeing a dentist twice a year can prevent these issues, as a professional can clean these problem areas and detect unseen complications with x-rays. At Williamsburg Dental, we provide comprehensive preventive care with the aid of advanced digital x-rays in our Lincoln, NE dental office.
Incredible Care from a Professional Staff
Your dental experience should be wonderful, and you should be able to walk away with a happy, bright, healthy smile every time. The doctors at Williamsburg Dental, professionals with thousands of treatments under their belts, and the sensational team of dental practitioners are completely devoted to giving each patient the care they deserve.
Your oral hygiene and health have a dramatic effect on your overall health and well-being, which is why we are passionate about providing stellar, unmatched dental care. In order to properly assess any oral issue and plan the corresponding treatments, we utilize the best x-ray technology available. Our digital radiography is used for every treatment and procedure to accurately spot dental problems before they become serious, detrimental issues.
Effective Digital X-rays for Unparalleled Treatment
We employ the use of digital x-rays so we can spot current or potential problems in your mouth. With the information retrieved from our digital x-rays, we can plan effective treatments to address and correct any and all problems that may arise.
We have invested in the newest digital x-ray technology, not only to provide a better standard of care but to give our patients a more relaxing experience as well. These new machines utilize digital sensors which require significantly less radiation and provide much clearer images of your teeth and gums. Like the older models, the sensors must be placed in the mouth to complete the x-ray, but they are much smaller and fit easily within the mouth. The best part: the machine takes images of your teeth all at once, so time is saved, and we do not have to burden our patients with a long procedure.
Receive Our Stellar Treatment Today
We pride ourselves on the quality of our patient care. We provide the best dental care in the region, and we can accomplish this thanks to the technology we have available. Contact our Lincoln dental office today and schedule an appointment with our fantastic team. Our dental office welcomes everyone who resides in Lincoln, Hickman, Crete, Waverly and the surrounding areas.