Lincoln Emergency Dentistry Appointments for the Entire Family
Emergency dentistry, call day or night (402) 420-2222. We have team members on call who will respond within 24 hours to help patients in times of dental emergencies.
A sudden dental emergency can ruin a restful night's sleep or interrupt a busy day. At Williamsburg Dental, we understand that dental problems don't always happen during regularly scheduled business hours. Tooth pain and oral injuries can occur at any time. That's why we now offer emergency dental care to all of our patients and the greater Lincoln community. If you or someone in your family has a dental emergency, you shouldn't hesitate to give us a call, no matter the time of day. We offer emergency dentistry services for patients of all ages. For an immediate emergency dental appointment, contact us now at (402) 420-2222 to get the urgent care and attention you and your family deserve.
Why Would You Need To See A Lincoln Emergency Dentist?
A toothache - Tooth pain is always a sign of dental infection and should be treated as soon as possible.
Swelling or Abscess - Gum pain or swelling can be symptoms of an abscess (infection) that forms in gum tissue or in a tooth's root and the area that surrounds it. There are many reasons why gums can swell, become painful, or abscess, but only a thorough dental exam can identify the underlying cause.
Chipped or Broken Tooth - It may be possible to reattach the pieces to your tooth if you collect the pieces and come in immediately for emergency attention.
Knocked-Out Tooth - You have a 1-2 hour window in which your tooth has a chance for re-implantation. However, if a child's baby tooth has been completely knocked out, chances are it cannot be re-implanted.
Lost Filling or Crown - Lost crowns and fillings can cause extreme sensitivity to hot and cold at the point of the exposed inner tooth structure.
Burned Roof of Mouth- Eating very hot food (like pizza) can burn the roof of your mouth. These painful sores and blisters typically heal on their own. If they have not healed after 10 days, you'll need emergency attention.
Bitten Tongue or Lip- If the cut is larger than 1/4 inch, or if bleeding does not stop after 10 minutes with pressure being applied, you need emergency attention.
Lincoln Emergency Dentistry Appointments Now Available
Dental emergencies should always be considered serious. Preparing your family and yourself in advance is the best way to deal with any dental emergency. The next time you find yourself in need of emergency dentistry services, don't think twice about giving us a call at (402) 281-9367 or (402) 421-6611 for the immediate care you need. Williamsburg Dental proudly serves families throughout Lincoln and the surrounding communities.
Dental Emergency FAQs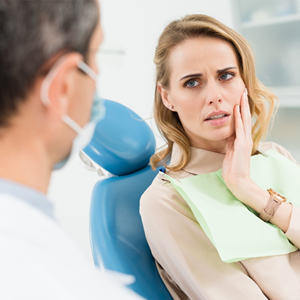 When the unexpected happens, which is almost always the case in a dental emergency, many questions can fill your mind. Below you'll find our answers to some of the most common ones that we get from patients. Hopefully, it can help you better plan how you'll respond when or if a dental emergency occurs to you or a loved one. If you have any other questions, don't hesitate to reach out to our team. We're here to help however we can!
What should you do if you have a dental emergency?
First of all, don't panic! You have a compassionate team of dental professionals at Williamsburg Dental who are here to help you around the clock. Give us a call, and we'll not only get you on our schedule as soon as possible but also provide specific advice for handling your situation in the best way possible until you are able to come in for treatment.
What if you do nothing or wait?
Regardless of the reason for avoiding emergency dental care, it is never a good idea to put off treatment that your smile needs. Unlike some medical conditions like a cold, oral problems don't eventually go away with time. The longer you wait to seek professional help, the worse the issue will become. What would only require a filling today may need a dental crown or even extraction in the future. If you are experiencing a dental emergency, contact Williamsburg Dental immediately!
How much will treating your dental emergency cost?
Each situation is different from the next, and the treatment will vary case by case, affecting the cost. Some patients mistakenly think that they can save money by postponing treatment, but the reality is that waiting for treatment only creates a larger, more expensive problem later on. After our team evaluates your condition and explains your treatment options, we can then go over the financial options you have at your disposal.
Are dental emergencies preventable?
Although some dental emergencies happen regardless of how careful you are with your smile, you can take certain steps to steer clear of most emergencies. These steps include the following:
Brush and floss your teeth daily.
Visit Williamsburg Dental twice every year for a checkup and cleaning.
Wear a mouthguard when you play sports or if you grind your teeth while you sleep.
Avoid opening packaging with your teeth.
Avoid chewing on pens, ice, popcorn kernels, and other hard objects.
How does Williamsburg Dental help nervous patients?
If you need to come in for dental treatment, but you feel anxious or fearful, you don't have to worry! We offer gentle, yet effective nitrous oxide sedation for those with dental anxiety. Our warm, caring team will make sure that you're completely comfortable and pain free throughout your entire appointment.