Emergency Dentist — Lincoln, NE
Fast Dental Care When You Need It Most
Call our emergency hotline day or night at (402) 281-9367. We have team members on call who will respond within 24 hours to help patients in times of dental emergencies.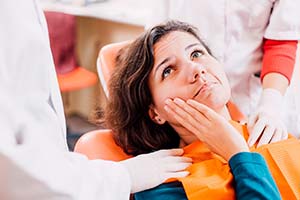 Dental emergencies happen suddenly and without warning, resulting in an overwhelming and inconvenient situation. If you're in need of help, don't wait – contact Dr. Andre Rossini and the rest of the team at Williamsburg Dental right away for the revitalizing attention you and your smile need. Our dental office welcomes patients of all ages and do everything we can to see you for emergency dentistry in Lincoln, NE on the same day as your initial call. For fast care when you need it most, don't hesitate to contact us during a dental emergency.
Why Choose Williamsburg Dental for Emergency Dental Care?
Call Our Hotline Day or Night for Emergency Care
Same-Day Emergency Appointments Available
Team of Highly Experienced Dentists Focused on Your Comfort
What to Do in a Dental Emergency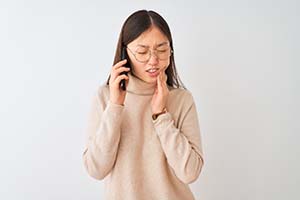 Regardless of the situation, try to remain calm and know that our team is here to help you. When a dental emergency occurs either to you or a loved one, act quickly for the best possible results:
Call us right away: No matter what time of day it is when your emergency occurs, give us a call! We'll give you over the phone instructions and schedule you an appointment for as soon as possible. If you call after-hours, a team member will get back to you within 24 hours.
Visit us for an emergency exam: As soon as you arrive, your Lincoln emergency dentist will see you right away for an exam. They'll focus on understanding the source and extent of your dental emergency while alleviating any serious pain.
Make a treatment plan: We'll review our findings with you and fully explain which treatments we recommend, including an estimate of their length and cost. Together, we'll create a treatment plan to restore your oral health that works best for you.
Get the fast, professional care you need: With a team of highly trained dentists and a variety of dental services all under one roof, we'll get to work right away. Your comfort and health will be our top priorities as we repair your smile, relieve your pain, and protect your teeth.
The Most Common Dental Emergencies
Whether it is a toothache in Lincoln, busted lip, abscess, or knocked-out tooth, our team here at Williamsburg Dental is equipped and ready to address your dental emergency as quickly as possible. Knowing you have qualified individuals who can offer restorative treatment when you need it most is crucial, but what if you're unsure if you need urgent treatment or not? We encourage you to give us a call anyways! Not all dental emergencies are easy to identify, but they will only get worse if left untreated. If you are experiencing worrisome symptoms or any of the following, don't hesitate to give us a call.
Lincoln Emergency Dental Appointments Now Available
Dental emergencies should always be considered serious. Preparing your family and yourself in advance is the best way to deal with any dental emergency. The next time you find yourself in need of emergency dentistry services, don't think twice about giving us a call at (402) 281-9367 or (402) 281-9544 for the immediate care you need. Williamsburg Dental proudly serves families throughout Lincoln and the surrounding communities.
Understanding the Cost of Dental Emergencies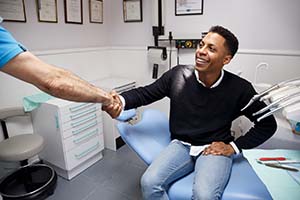 Two patients who experience the same dental emergency may require different treatments. It is impossible to know what you'll need (and what you'll owe) until we have the chance to examine your mouth. However, one major money-saving tip is to seek our help as soon as you notice a problem because dental issues only get worse (and more expensive) with time. If you wait for treatment, you'll likely end up paying more to fix the problem than if you come in earlier.
Factors That Impact the Cost of Treatment
We treat every patient and emergency situation with the same compassion and attention to detail; however, they can vary and require different treatments. Only after we've evaluated the damage to your smile can we explain your treatment options and the associated costs.
Are you diligent in your oral healthcare routine? Daily brushing and flossing may seem insignificant, but these, along with regular dental checkups and cleanings, play a critical role in keeping your smile healthy. You may still encounter issues even when you follow these instructions, but having healthy dental habits can lessen the severity of the problem and therefore save you money when we resolve it.
The sooner you come into our dental office, the more likely we'll be able to use less invasive (and less expensive) treatments. For example, if your tooth is cracked but isn't causing a lot of pain, you may be tempted to postpone addressing it. However, this time allows bacteria to enter the injured area and potentially cause an infection, which means you'll need a more intensive procedure.
Financial Options Available
Unexpected dental problems can ruin or at least disrupt your day, but they don't have to derail your finances. Our team is happy to work with you and find solutions that make treatment affordable. Here are the ways you can reduce your out-of-pocket costs for dental emergencies.
Dental Insurance—We're proud to accept most dental insurance plans, including Delta Dental, Guardian, and MetLife. When we file claims on your behalf, we'll do our best to maximize your coverage, saving you money.
Membership Savings Plan—If you don't have dental insurance, you have a budget-friendly alternative available with Williamsburg Dental's Membership Savings Plan. In addition to preventive care, these plans cover one free emergency exam and provide a 25 percent discount other services, such as root canals and fillings.
CareCredit Financing—We understand that paying for treatment all in one lump sum may stretch you too thin for comfort. That's why we also accept payment through CareCredit. We can even help you apply for financing right here in our dental office and break the cost into more manageable monthly payments.
How to Prevent Dental Emergencies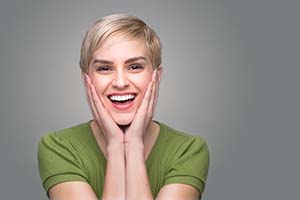 "An ounce of prevention is worth a pound of cure." In other words, you're better off putting in a little effort to prevent trouble from happening in the first place than treating a big problem later on. This old saying is definitely true when it comes to your oral health. In most cases, but not all, dental emergencies can be avoided altogether through a few simple steps.
Visit Your Dentist Regularly
If you are diligent in your at-home care, you may think these efforts are enough to maintain a healthy mouth. However, every six months at least, you need to visit Williamsburg Dental for your checkup and cleaning appointment, where we will remove tartar deposits and stop decay before it starts. We also examine your mouth for signs of existing decay or infection. If we find anything concerning, we can address it right away using less intensive (i.e., less expensive) treatment than if you wait until after you notice it on your own.
Maintain Good Oral Hygiene Habits at Home
Making a huge difference for your smile's health can be accomplished through little efforts. For example, be sure to brush and floss your teeth every day to keep plaque buildup to a minimum. These important habits help you get rid of plaque before it hardens and leads to decay, weakened enamel, and infections.
Stick to a Nutritious Diet
Did you know that what you eat feeds not just you but also the bacteria in your mouth? Foods with high sugar or carbohydrate content promote growth of the bacteria that cause cavities and gum disease. This means that by limiting these foods you'll be slowing down their production of harmful acids and helping your mouth stay healthy.
Protect Your Pearly Whites
If you play any sport where contact to the face can occur, your teeth could be at risk of being knocked out. Wear a mouthguard to protect your teeth from an impact. At Williamsburg Dental, we know that one-size-fits-all mouthguards, which you can purchase at sports stores, can be uncomfortable or slip. That's why we can provide you with a custom mouthguard that fits properly and feels just right.
Use Tools, Not Teeth to Open Packaging
Struggling to open a bag or break into a package can be frustrating, but resist the temptation to use your teeth to open it! Take an extra minute or two to get a pair of scissors or other appropriate tool. Your teeth already experience enough force and pressure in biting and chewing your food. They don't need to be chipped or fractured for something that can easily be done with the right tool. For the same reason, you should also avoid chewing on hard food or objects like ice, popcorn kernels, and pens.
Dental Emergency FAQ's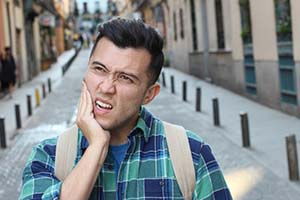 When the unexpected happens, which is almost always the case in a dental emergency, many questions can fill your mind. Below you'll find our answers to some of the most common ones that we get from patients. Hopefully, it can help you better plan how you'll respond when or if a dental emergency occurs to you or a loved one. If you have any other questions, don't hesitate to reach out to our team. We're here to help however we can!
How Long Can I Wait to See a Dentist?
Regardless of the reason for avoiding emergency dental care, it is never a good idea to put off treatment that your smile needs. Unlike some medical conditions like a cold, oral problems don't eventually go away with time. The longer you wait to seek professional help, the worse the issue will become. What would only require a filling today may need a dental crown or even extraction in the future. If you are experiencing a dental emergency, contact Williamsburg Dental immediately!
How Much Does Emergency Dental Treatment Cost?
Each situation is different from the next, and the treatment will vary case by case, affecting the cost. Some patients mistakenly think that they can save money by postponing treatment, but the reality is that waiting for treatment only creates a larger, more expensive problem later on. After our team evaluates your condition and explains your treatment options, we can then go over the financial options you have at your disposal.
How Does Williamsburg Dental Help Nervous Patients?
If you need to come in for dental treatment, but you feel anxious or fearful, you don't have to worry! We offer gentle, yet effective nitrous oxide sedation for those with dental anxiety. Our warm, caring team will make sure that you're completely comfortable and pain free throughout your entire appointment.