Dental Implants – Lincoln, NE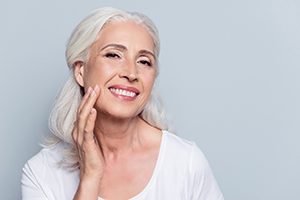 Are you looking for the best way to replace missing teeth? While there are plenty of reliable tooth replacement options to choose from, none compare to dental implants! These restorations replace missing teeth with the next best thing by mimicking the entire tooth structure, both above and below the gumline. At Williamsburg Dental, we're proud to offer customized implant dentistry services designed to restore your smile, maintain the structural integrity of your mouth, and improve your quality of life. And thanks to our highly trained and experienced team, we can perform the entire dental implant treatment right here in our dental office — no need to visit an unfamiliar specialist! To learn more about this life-changing dental implants in Lincoln, NE, read on below or contact us today for a consultation.
Why Choose Williamsburg Dental For Dental Implants?
Flexible Payment & Financing Options to Make Dental Implants Affordable
Comprehensive Dental Implant Treatment All Performed In-Office
Advanced Dental Implant Procedures & Services Available
What Are Dental Implants?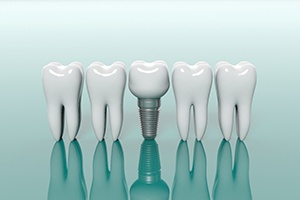 A dental implant is a small titanium post. It can be inserted directly into the jawbone where the roots of a missing tooth used to be, effectively replacing them. Since titanium is a biocompatible material, a dental implant can fuse with the surrounding bone and gum tissue after placement in a process called osseointegration. Not only does this provide a strong, lifelike foundation for your replacement tooth or teeth, but it stimulates blood flow in the jawbone to prevent it from shrinking!
Once you've fully healed, a small connector piece called an abutment is attached to the top of the dental implant to secure the final restoration in place. Depending on how many dental implants you're receiving, this custom-made restoration could be a crown, bridge, or denture to replace any number of missing teeth. When you replace missing teeth from the roots up with dental implants, you can regain a smile that looks, feels, and functions just like natural!
The 4-Step Dental Implant Process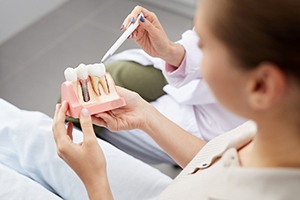 Out of the all the tooth replacement options available, dental implants have the most benefits for your oral health and your appearance, but they also involve the most complicated process including surgically placing the post. With our dental experts, you don't have to worry—they have the experience and skills to ensure that your entire dental implant experience is a success! That way, you can regain your strong, healthy smile and your confidence even after tooth loss.
Initial Dental Implant Consultation
To someone who is unfamiliar with the implant process, this consultation may seem like an unnecessary meeting, but in truth it is actually quite important. Not only will you get the chance to learn more about the steps ahead of you, but your dentist will closely examine your mouth to make sure it's healthy enough and ready to start treatment. Once you and one of our dentists in Lincoln have decided that dental implants are the right replacement option for you, we can move forward with a customized, concrete plan.
Dental Implant Surgery
After the consultation, we can schedule your placement appointment, which is the surgical portion of the process. First, we will make sure your mouth is properly numbed, keeping you entirely comfortable. Next, the dentist will open the missing tooth's socket beneath the gum line and put the post into position, where it needs to come into contact with your jawbone. Then, they will close up your gums and allow the site to heal.
Dental Implant Osseointegration & Abutment
As an essential part of the healing process, osseointegration occurs when the jawbone provides new growth and envelops the implant. This is how natural teeth are secured and stabilized, and it must happen for dental implants to be successful. Usually after three to six months, osseointegration is complete. At that time, we can then do a quick procedure where we put in a small connection piece called an abutment, which links the post to the dental prosthetic.
Delivery of Dental Implant Restoration(s)
When the abutment is placed, we can take impressions of your upper and lower arches in order to have your custom restoration fabricated. When it's ready, we will place the prosthetic, whether it be a dental crown, fixed bridge, or implant-retained denture. You have the option to have your restoration locked in position, meaning only your dentist can remove it. Or, in the case of implant dentures, you may keep your dentures removeable with a snap-like system.
Benefits of Dental Implants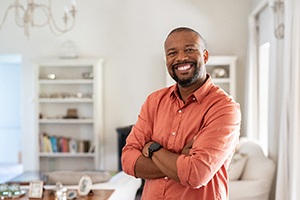 Over three million people have chosen to rebuild their smiles with dental implants, and more than 500,000 are placed every year. So what makes dental implants so different than dentures and dental bridges that they're quickly becoming the most popular way to replace missing teeth? It all comes down to how they replace the roots of missing teeth. When you restore teeth from the roots up, you get a smile that looks, feels, and functions as if it were never missing teeth in the first place! Here are some of the most popular benefits that set dental implants apart from other tooth replacement options.
Day-to-Day Benefits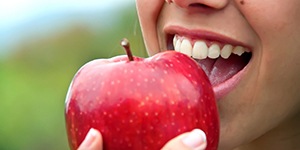 Eat all your favorite foods: Dentures and dental bridges only restore about 20-30% of natural biting force. On the other hand, dental implants offer 80% or more of your biting power, which means you can easily and comfortably eat corn on the cob, apples, nuts, steak, and anything else on your plate!
Easily keep your smile clean: You don't need any special brushes, pastes, or cleaning solutions to keep dental implants clean. In fact, you can go about cleaning your smile just as if all your teeth were home-grown! Simply brush, floss, and rinse with mouthwash as you would normally.
Smile with 100% confidence: As dentures and dental bridges begin to lose their fit after a few years, they can feel loose and unstable. Your dentures may even slip out of place at embarrassing times! Dental implants are anchored firmly in place, so you can smile with complete confidence that they'll stay firmly in place as you talk, eat, and laugh.
Health Benefits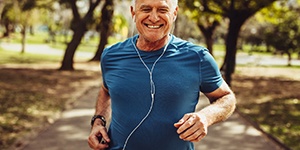 Dramatically improved comfort: Dental implants are completely self-supporting, so you won't have to worry about the tooth sensitivity and gum irritation that often comes with dental bridges and dentures. In fact, dental implants are so comfortable, you may even forget they're there!
Preserve your jawbone and appearance: The jawbone naturally starts to deteriorate after tooth loss. As the jaw weakens and shrinks away, the facial bones it supports shift and take on a sunken, aged look. Dental implants are the only tooth loss solution that prevents jawbone deterioration and preserves your youthful appearance.
Improved oral and overall health: It's much easier to keep your smile clean and healthy with dental implants, which obviously lowers your risk of issues like tooth decay, gum disease, and additional tooth loss. In turn, studies show that better oral health can lower your risk of systemic conditions like heart disease, respiratory infections, and memory loss.
Long-Term Benefits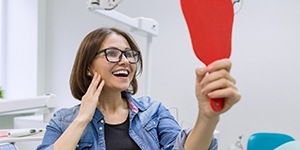 Lasting, reliable results: Even 10 years after placement, dental implants boast an impressive 95% success rate. With the proper care, you can easily expect your dental implants to last for the rest of your life.
Save time and money: While dental implants have a higher initial cost than dentures and dental bridges, they will likely save you countless hours and thousands of dollars in repairs, cleaning products, replacements, and trips to the dentist.
Live longer: A complete smile can potentially extend your lifespan. Recent studies report that patients with 20 teeth or more at the age of 70 have a considerably higher chance of living longer than those with fewer teeth at that age.
Who Dental Implants Can Help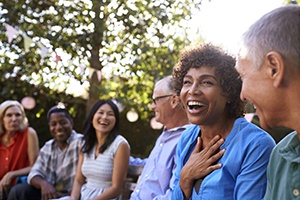 For implants to be successful, your mouth needs to be healthy overall (i.e., you have no gum disease or other infections). You also need to have a strong jawbone to support the implant. Even if you don't initially qualify for a dental implant, we can provide the necessary treatment so you can eventually become eligible. The journey begins with a consultation, where we can determine your needs and create a treatment plan designed specifically for you.
Who Is a Good Candidate for Dental Implants?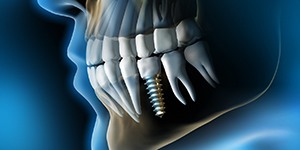 Although dental implants have the most benefits for tooth replacement, there are certain criteria that you need to meet in order to qualify for them. For instance, you need to have sufficient jawbone to support the dental implant, or the procedure will fail. Luckily, we can perform a bone graft to reinforce your natural bone and prepare for implant placement. You also need to be in good oral health in general to get dental implants. If you have an existing infection, your tissues won't be able to heal properly. Ultimately, the only way to know for sure whether dental implant placement would be successful for you is to schedule a consultation with one of our skilled, experienced dentists. They can perform a thorough exam to determine your candidacy for dental implants.
Once we've ensured that you're a good candidate or you've healed from any necessary preliminary procedures, we can move on with your treatment. The number and type of dental implants you get will depend on how many teeth you're missing:
Missing 1 Tooth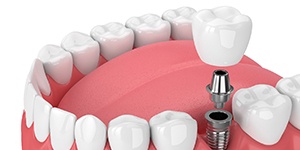 If you are missing a single tooth, we can restore it using something called an implant-retained crown. This will involve a custom-made all-porcelain crown that is attached directly to an implant post via a small metal connector called an abutment. Thanks to the stability provided by the post and the quality of dental porcelain, this new tooth should look, feel, and act just like your other natural teeth.
Missing Multiple Teeth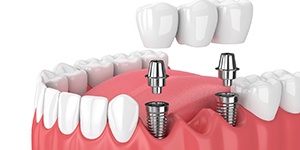 If you have a few missing teeth in a row, we can actually place two of these crowns on either side of the gap and bond them to prosthetic teeth that sit on top of the gums to close it. This is called an implant-retained bridge, and it can restore your smile's appearance and function at the same time. Compared to a traditional bridge, it has a stronger hold, looks more lifelike, and can be expected to last much longer.
Missing All Teeth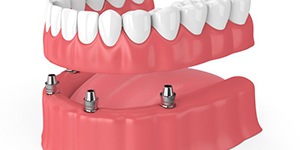 Dental implants are so versatile that they can even be used to support a full denture. If you're tired of dealing with uncomfortable dentures that never seem to stay in place, and implant denture may be exactly what you need to reclaim your smile. More and more dentists and patients are choosing implant dentures over traditional ones because they offer a number of additional benefits that you simply can't achieve any other way!
Learn More About Implant Dentures
Did you know that you could have an entire arch's worth of teeth held securely in place using only four dental implants? This revolutionary method allows you to enjoy all the benefits of dental implants with less invasive treatment and less recovery time. It's especially helpful for patients suffering from a weakening jawbone that can't support traditional dental implants. Our experienced, skilled dentists can use the All-On-4 strategy to give you back your full smile more efficiently than ever. Schedule a consultation with one of our experts today to see if your dentures could be retained with just four implants!
Understanding the Cost of Dental Implants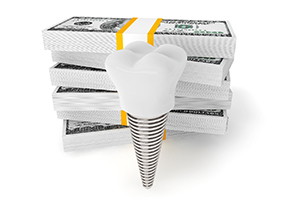 At Williamsburg Dental, we don't believe in a one-size-fits-all treatment strategy. Just as each of our patients is one of a kind, the implant placements and restorations we perform are unique in each case. That complicates providing an estimate for anyone in general. You can find out how much getting dental implants would cost in your specific case by scheduling a consultation with us. Our experienced team can create a personalized plan and give you an accurate estimate associated with treatment.
Preliminary Treatments & Dental Implant Surgery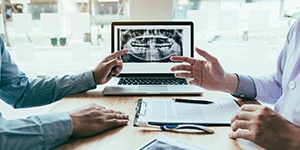 In many situations, some additional work needs to be done before placing dental implants, such as tooth extraction, gum disease treatment, or a bone graft. If you require any of these preliminary procedures, it will add to your overall cost. Then, the cost of the implant placement procedure itself will vary based on the number and location of the implants you're receiving. For example, the more implants you get, the higher the price will be.
The Parts of Your Dental Implant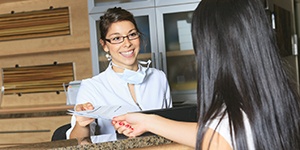 As with many other products and industries, the brand matters when it comes to the implant cost. A certain make and model of a car, for instance, can affect not just the price tag but also the specific perks of that brand. When we choose the specific type of your dental implants, we keep your needs and goals in mind and select the option that will best suit you. As a result, the amount you pay may vary from another patient based on the brand of implant products we use.
How Dental Implants Can Save You Money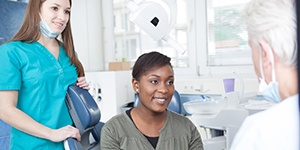 Although the initial price tag may be higher for dental implants, they offer so much more than other tooth replacement options in the long term. Preserving your jawbone and other remaining healthy teeth, providing a stronger bite, and enabling you to enjoy confidence in your smile are all priceless benefits that dental implants give you. Also, because of how frequently other tooth restorations need to be replaced, dental implants may even turn out to be the wisest financial investment in the long run.
Does My Dental Insurance Cover Dental Implants?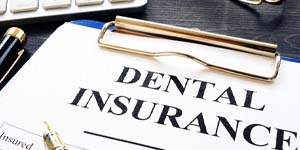 Although uncommon, some dental insurance plans include implant coverage. Even if yours doesn't, many policies help cover some of the cost for necessary preparatory work and the restoration, which can help reduce your out-of-pocket costs. Our team of industry experts will gladly examine your dental policy and help you know how to maximize your benefits. If you do not have dental insurance, you can consider enrolling in one of our savings plans, which offer perks that dental insurance doesn't like a 25 percent discount on dental implants.
Making Dental Implants Affordable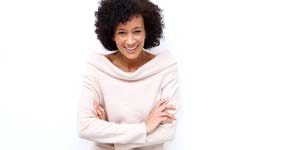 To mitigate the cost of your dental implants, you may have many resources at your disposal in addition to insurance or the savings plan. Do you have a health savings account (HSA) or a flexible spending account (FSA)? This non-taxable money can be used to pay for dental implants. If paying for treatment in one-lump sum isn't feasible, we can help you get low- or zero-interest financing with CareCredit to divide the price into smaller monthly payments.
Advanced Dental Implant Procedures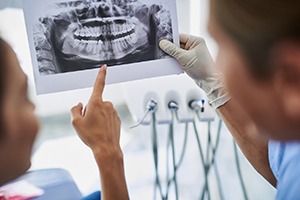 Many patients qualify for dental implants right away. They are in good oral health and have substantial jawbone to support the implant. However, others do not initially qualify. The good news is that our experts at Williamsburg Dental can perform certain preliminary procedures that can make dental implants possible for everyone. Typically, dental offices have to refer patients to a specialist for these advanced dental implant procedures, but we are able to provide these services right here in-office.
Bone Grafting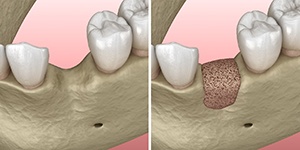 If you have a weak or thin jawbone, it may not be adequate to grow and envelop the implant post as it should. A bone graft provides extra reinforcement and strengthens the jawbone, making implant treatment more likely to succeed. The graft can be natural or synthetic, but they will encourage new bone growth. You may have to wait several months following your graft procedure before the implant can be placed to ensure that the jawbone is prepared to integrate with the post.
Sinus Lifts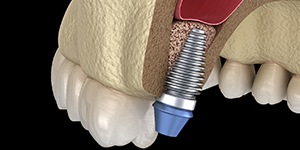 In general, the upper jaw in the back of your mouth has the least amount of bone structure and is often the most difficult area to place successful dental implants. During a sinus lift, our dentists basically expose the existing bone and lift it further into the sinus cavity. Then a bone graft is placed to fill in and generate new bone growth. This process often takes several months to complete, but it can ensure that your dental implants are successful.
Gum Disease Therapy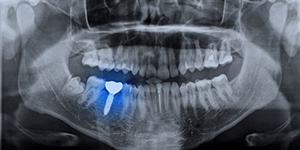 As the number one cause of tooth loss in the world, gum disease can hinder your body's ability to not only hold your natural teeth in place but also accept and support a dental implant. If you currently have this inflammatory condition in your gum tissue, we will first resolve this problem through proven therapies. Once we eradicate the infection, we may be able to move forward with your dental implant placement.
Learn More About Gum Disease Therapy
Tooth Extractions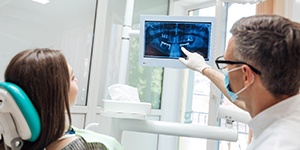 In some cases, a tooth needs to be removed before an implant can be placed. Whether a tooth has been too severely damaged in an injury or a decayed tooth has too little healthy structure left, extraction is the best course of action to get ready for a dental implant in the future. Sometimes, our experts are able to perform both the extraction and the implant placement on the same day! However, these procedures are more often separated to ensure that the patient is healthy enough for the implant.
Dental Implant Salvage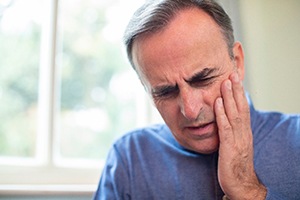 When planned and placed by a professional, the risk of a dental implant failing is incredibly low. In fact, the success rate for dental implants averages between 95 and 98 percent. With that said, infection of the gum tissue surrounding the implant, or peri-implantitis, can cause the implant to fail. Dental implants can fail either soon after implant placement or several years down the road. Regardless of the situation, our team of specialists can offer effective treatment to get rid of the problem and keep your restored smile healthy, and we will do our best to save your dental implants.
Learn More About Dental Implant Salvage
Maintaining & Caring For Your Dental Implants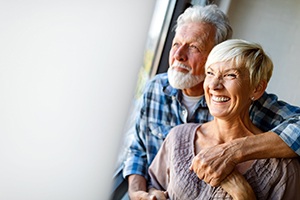 Would you like your dental implants to last a long time? Of course, you do! With the proper maintenance, they can still be effective and strong 30 years down the road. Fortunately, the care you give your implants looks similar to the care you should give natural teeth. You can also protect your investment in your smile by making smart, healthy choices in your lifestyle.
Make Oral Hygiene a Priority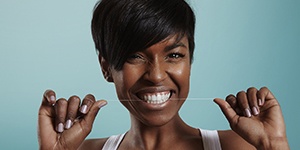 Even after replacing your natural teeth, you need to continue basic dental care: brushing and flossing every day. Your prosthetic teeth may not get cavities, but bacteria-filled plaque can still accumulate on your implant restorations, leading to infections or other problems. By brushing twice and flossing once daily, you can keep buildup from forming and prolong the lifespan of your implants.
Eat a Healthy Diet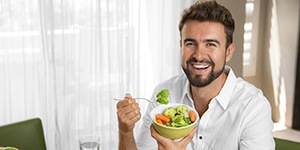 The foods you consume don't just feed your body but also the bacteria living in your mouth. Although your replacement teeth are not vulnerable to decay, your diet can have an impact on your oral health and the continued health of your smile. When you eat something starchy or sugary, it promotes the growth of bacteria that cause gum disease and eventual implant failure.
Break Bad Habits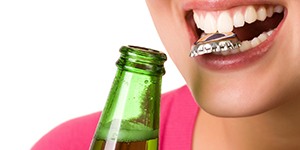 In order to make your implants last, you may need to make some changes in your lifestyle. Chewing on ice or other hard objects (like pencils, fingernails, or packaging) can put your implants at risk of failure because of the immense force placed on them. Also, smoking or using tobacco products fosters bacterial growth in the mouth, potentially leading to gum disease or other issues. Try to end bad habits and replace them with good habits like using the appropriate tools for opening packaging.
Protect Your Dental Implants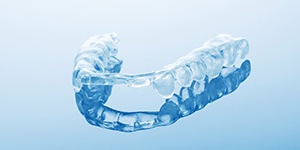 Dental implants are designed to be durable, but they are not indestructible. If you grind or clench your teeth, the restorations as well as the implants themselves can be compromised. In that case, you would need to wear an oral appliance to stop this unconscious habit. Additionally, when you play sports, you should have a mouthguard, just in case you get a blow to the face.
Schedule Regular Dental Checkups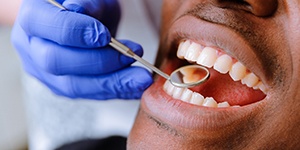 Even if you are diligent in your at-home oral care, plaque can slowly build up and create problems. That's why it's important to continue visiting our team for routine checkups and cleanings on a regular basis, even if you have no natural teeth left. These appointments give us the opportunity to make sure that your implants are still in excellent condition and that your smile stays healthy!
Dental Implants Post-Op Instructions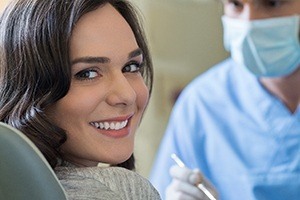 After the placement procedure, it's very important that you follow our after-care instructions. The success of the placement itself and your oral health can depend on it. We'll go through the specifics with you before you leave our office and address any concerns you may have about the healing process. If you have any other questions at any point, feel free to contact us. We're always here to help!
What to Do Directly After Dental Implant Surgery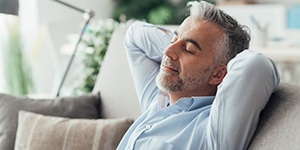 Immediately after you've had your implant posts placed in your mouth, you need to rest. Keep gauze on the site until it stops bleeding, replacing the gauze as needed. During this time, a blood clot will form over the site. Don't worry—this is a good thing! The clot covers the vulnerable gum tissue and protects it from infection while it recovers from the procedure. We recommend taking it easy for at least 24 hours, but you should stay away from strenuous activity for a few days to give your body ample time to heal.
Common Side-Effects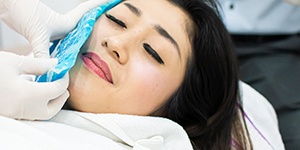 Remember that, while considered minor, dental implant placement is still a surgical procedure, which means it'll take some time to recover. In the aftermath of implant placement, you may have a little bit of bleeding and swelling, but these should go away after a while. For any discomfort, you may use over-the-counter pain medication as needed, or you may use a cold compress. If you ever experience substantial pain or a high fever, or if your symptoms get worse with time, contact our office right away.
Diet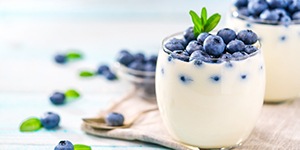 For a few days after the procedure, you will need to avoid eating crunchy, hard foods like chips and nuts because these could force the blood clot out of its spot, potentially leading to a painful infection called dry socket. Instead, choose soft foods, such as yogurt, mashed potatoes, and oatmeal, which will be gentle on your healing mouth. However, do not use a straw or do anything that requires a sucking motion. After a few days, you can begin reintroducing normal foods back into your diet.
Health & Oral Hygiene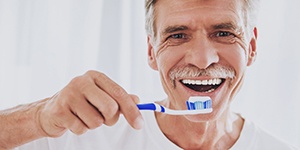 Even after having surgery—especially after surgery—you need to keep your mouth clean with brushing and flossing as you usually do. When the gauze becomes too saturated, take it out and replace it with a new clean gauze. Don't skip your normal oral hygiene routine even for one day; just be extra careful around the surgical site and don't dislodge the clot. Also, avoid hard spitting or swishing in your mouth because this motion could remove the clot prematurely.
What to Do After Your New Teeth Are Attached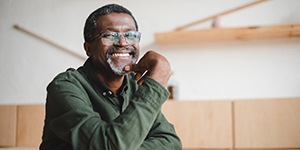 Once your restorations have been bonded to the abutments, you are free to enjoy them! You may eat basically anything you can normally eat with natural teeth. Although your implants will not be susceptible to decay, plaque can still build up on them, and if it's not clear away, this buildup eventually causes a gum infection called peri-implantitis, leading to implant failure. As a result, you need to maintain your implants just as you would real teeth—through daily brushing and flossing as well as regular visits to our office for checkups.
Dental Implant FAQs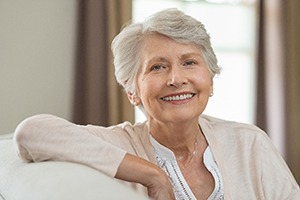 As one of dentistry's most complex treatments, dental implants can be an overwhelming topic to learn about on your own. Fortunately, our team is here to address your concerns, answer your questions, and guide you to the right solution for your smile. Take a look at the responses to some common questions below, but feel free to contact us and schedule a consultation if you would like more clarification and if you would like to see if you are a good candidate for this treatment.
Can I Take Dental Implants Out?
No, the dental implant posts are embedded in the jawbone and cannot be removed. This is partly how implants can provide such stability for your prosthetic teeth. For most restorations attached to the implant, they may only be removed by one of our dentists if necessary. If you have implant dentures, you may choose to have them remain removeable, in which case your dentures will "snap" in and out, allowing you to easily take them out of your mouth.
What Can Cause Dental Implants to Fail?
Implant failure is rare, but it can happen if you don't take proper care of your implants. In the short term following placement, your jawbone may not grow and surround the post if you don't have enough density in the bone or if you have an untreated infection like gum disease. We reduce the chances of this kind of failure by being extra thorough before you receive implants. We do everything possible to make sure you have the best odds of success. Failure can also occur years later, mostly as a result of poor oral hygiene, which is why we encourage our patients to continue practicing healthy habits at home and coming to our office on a regular basis.
How Long Does It Take to Recover from Dental Implant Surgery?
Although implant placement is a surgical procedure, it is considered minor, which means you should be able to return to your normal activities one or two days afterward. However, you should wait to resume physically strenuous activities for about a week to give your body plenty of time to recover. You may experience some minor bleeding or swelling for a few days, but it should subside. If you have any discomfort, you can use over-the-counter pain medication to manage it. Even though your gums can heal quickly from this procedure, your jawbone will require more time to grow around the post. This process, called osseointegration usually takes up to six months to complete.
Is There Anything I Shouldn't Eat with Dental Implants?
Immediately following the placement surgery, you should avoid crunchy, hard foods to protect the vulnerable site. Soft foods like oatmeal, yogurt, and mashed potatoes allow the gums to heal and don't disturb the new post. Once osseointegration has occurred and the implant has a restoration on it, you're basically free to eat whatever foods you like. We encourage patients to stay away from chewing on certain hard foods like popcorn kernels and ice, which can damage your implant, just like a natural tooth. Be careful when eating nuts or sticky foods that could dislodge the restoration.
Can I Use FSA or HSA Money to Pay for Dental Implants?
If you have a flexible spending account or a health savings account, you can certainly use these funds to pay for dental implants. After all, these accounts are designed for covering medical and dental expenses, and implants are considered a restorative treatment that benefits your oral health. Keep in mind that you may have to file for reimbursement and that specific account plans can vary. Also, FSAs may have an annual limit of funds you can withdraw. If you would like to take advantage of your HSA or FSA for dental implants, we can make sure you'll get reimbursed properly.
What Should I Do If I Can't Afford Dental Implants?
Don't be frightened away from implants just because of the initial price tag. At first paying for implants can feel overwhelming, but we provide plenty of ways to help the cost fit within anyone's budget. Although insurance typically doesn't cover the implant treatment itself, there are parts that could be included inn your benefits like preliminary procedures (e.g., gum disease therapy, tooth extractions) and the restoration. If you don't have dental insurance, you can join our savings plans, which offer a whopping 25 percent discount on dental implants! Our team is willing to work with you by arranging flexible financing and dividing the cost of treatment into easier monthly payments.
Are Dental Implants Tax Deductible?
It's possible to deduct dental implants from your taxes in most cases. However, you need to be aware of the ever-changing tax laws, which means we recommend talking with a certified public accountant, local tax attorney, or tax expert here in Lincoln. To make the cost of implants tax deductible, you need to itemize the deductions and the expense must be at least 7.5 percent of your annual gross income. Plus, you are not allowed to deduct expenses that insurance is covering, like the restoration. Again, if you have more specific questions about handling dental implant deductions, speak with a professional who is familiar with tax laws and can guide you through the process.