About Our Lincoln Dental Offices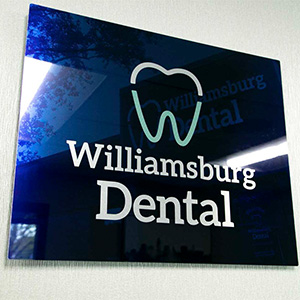 When you come to any of our dental offices in Lincoln, our goal is to give you absolutely everything you need under one roof. Sound like a challenge? We're ready for it! With us, you'll get the same kind of friendly, one-on-one service you'd expect from a small private practice as well as the comprehensive treatment options and state-of-the-art technology of a large corporate one. We're able to provide everything from basic preventive care to renewing restoration solutions to transformative cosmetic treatments and more. We're also happy to serve the entire family, so whether you're looking for a dentist for yourself, your child, or both, we're ready and able to see you!
Our dental office is staffed by a large team of highly-trained dental professionals, and with us, quantity does actually mean quality. When you come to see us, you can trust that you'll be treated by a doctor who will make you their number one priority and is able to completely personalize your care to meet your individual dental needs. All in all, we'll do everything we can to make sure you achieve (and keep) a healthy, beautiful smile for decades to come.
Gentle Dentistry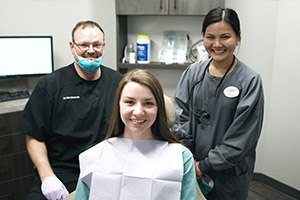 We aim to be a service-oriented, modern, gentle dental office that provides a relaxing environment for our patients.
Believe it or not, we go to the dentist too! We know exactly how important it is to give you a pain-free visit while getting the job done right the first time. After all, we expect nothing less during our own appointments, so why should your experience be any different?
Gentle - We pride ourselves on being gentle. Whether giving anesthetic or providing other services, you will be pleasantly surprised by how comfortable your dental experience can be! We offer nitrous oxide (laughing gas) to aid patients who may feel nervous. We can also provide a mouth rinse that will make your gums numb for only an hour so that cleanings are completely painless!
Service Oriented - The patient is always the center of our focus. We aim to please and our patients enjoy having dentists that truly care about them.
Modern - We have invested in the newest digital radiography and proven technology to make your visits to the dentist easier and less intrusive. Less radiation, less time, and less to worry about.
Relaxed Environment - We enjoy working and providing care in an environment that is relaxing and comfortable. We encourage you to try us and see how relaxing our dental office is.
Singing a chairside tune is one thing, but delivering a gentle and painless experience is another. We believe you should have the best of both worlds. At Williamsburg Dental in Lincoln, you can trust your dental care is in great hands.
The Latest Dental Technology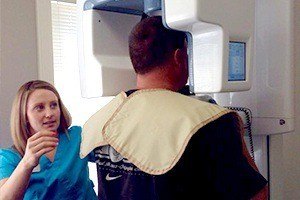 When it comes to dental care, "okay" and "decent" should not be acceptable terms to describe the experience. Our doctors, a team of seasoned professionals with years of experience, and our team of handpicked dental masters are dedicated to providing the absolute best oral care for every patient that walks through our dental office doors. Top-quality dental care is our ultimate goal, which is why our doctors have invested in the latest dental technology, and our team stays current with modern dental trends.
We utilize our experience, dental prowess, and technology to ensure that all of our patients receive the highest-quality care, and we personalize every treatment to fit the needs of each individual. We know we have done our job right when we provide optimal oral health care and see our patients walk out of our building with bright, happy smiles.