At-Home Teeth Whitening – Lincoln, NE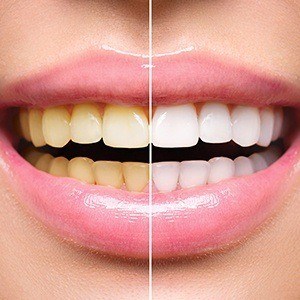 Have you wished for a whiter smile? Tooth discoloration and staining can be caused by smoking, eating acidic foods, or drinking coffee, tea, sodas, and wine. This daily consumption can wreak havoc on the color of your enamel over time. Our teeth can also change color naturally as we age or if we take certain medications. This tooth discoloration can have a major impact on your quality of life.
Your smile creates an immediate and subconscious impression on everyone you meet. A bright white smile gives the impression of youth, vitality, health, happiness, and warmth. Studies show that a bright smile is perceived as a healthy smile, and most people believe that a healthy smile is an important social asset.
As many as 96% of adults believe a white smile makes a person more attractive, and nearly 74% of adults feel that an unattractive smile can hurt a person's career. That's why Williamsburg Dental now offers reliable options for at-home teeth whitening in the Lincoln, NE community. For the quick and effective teeth whitening treatment you deserve, make an appointment with the highly qualified cosmetic dentists of Williamsburg Dental today.
What Are Your Teeth Whitening Options?
Teeth Whitening Toothpaste: Toothpaste, while necessary to keep your teeth healthy, cannot actually alter the color of your teeth or remove deep staining. They don't contain the bleaching ingredients necessary to correct discoloration. Therefore, as a teeth whitening method, toothpaste is wholly ineffective.
Over-the-Counter Teeth Whitening: These products claim to whiten teeth, and may come as a gel, strip, rinse, or whitening tray. Though they do contain bleaching agents, they are typically diluted and not powerful enough to fix severely discolored enamel. In fact, it could take several weeks of daily use before you begin to see any color changes in your teeth. This prolonged use can also lead to gum irritation or inflammation.
Teeth Whitening with Williamsburg Dental
Williamsburg Dental offers custom-fitted teeth whitening trays made from a flexible material that adapts to your teeth to evenly distribute whitening gel across the tooth surface. These whitening trays are an easy take-home way to whiten teeth at your leisure.
Williamsburg Dental also offers an in-office Boost! teeth whitening treatment. In just one short visit, your teeth could be up to 8 shades whiter! Along with the Boost! teeth whitening in-office treatment, you'll also receive custom whitening trays and whitening gel to continue your teeth whitening regimen at home. These whitening treatments are powerful yet gentle enough for use on sensitive teeth and gums.
Time for a Bright Smile
Williamsburg Dental offers the most effective treatments available for reversing tooth discoloration to achieve the beautiful smile you desire. Make your professional teeth whitening appointment with the experienced cosmetic dentists of Williamsburg Dental today.
Teeth Whitening FAQs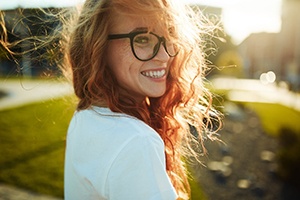 Even with a treatment as straightforward as teeth whitening in Lincoln, you may have questions about the process. At Williamsburg Dental, we always welcome your inquiries and will happily answer them at your consultation. We have taken the liberty of responding to some of the ones that many other patients have asked in the past and invite you to read the content below. Of course, if you need further explanation or you have other questions, feel free to mention them when we meet at your appointment.
Does Teeth Whitening Hurt?
Absolutely not. The take-home bleaching agent, although stronger than anything you'll find at the store, is less concentrated than some in-office whitening treatments. Over the course of two weeks, it gets rid of set-in stains in your enamel without causing sensitivity or discomfort. However, if your teeth do feel a little sensitive following your treatment, you may use specially formulated toothpaste for sensitivity or use a fluoride toothpaste. If it persists, we may be able to give you a fluoride treatment.
Am I a Good Candidate for Teeth Whitening?
Most patients who would like to get teeth whitening qualify for this treatment. Its only requirement is that you have healthy teeth and gums, meaning you don't have any cavities, gum disease, or another oral problem. If you can't get teeth whitening right away, we can address the issue so you can whiten your teeth afterward. Even if you aren't a good candidate at first, we can get you in a better position to enjoy the benefits of this cosmetic treatment.
Does Teeth Whitening Work on Dental Crowns or Veneers?
Teeth whitening treatment does not change the color of crowns or veneers. If you plan on getting teeth whitening along with another treatment, you need to let us know, and we can schedule your teeth whitening before. That way, we can appropriately match your crowns or veneers to your whitened teeth for a more uniform look. Make sure you talk thoroughly about your goals with us at your consultation, and together we'll create a personalized treatment plan designed specifically for your smile.
How Can I Make My Teeth Whitening Results Last?
If you're going to go through the trouble of whitening your teeth, you probably want it to last as long as possible. To accomplish this, you can be more careful in what you eat and drink. Certain substances, such as red wine, coffee, tomato sauce, berries, and more are deeply pigmented and can cause stains to reappear sooner. In some cases, you can use a straw to spare your teeth the risk of staining. You should also continue to brush and floss your teeth every day as you usually do.