Porcelain Dental Crowns – Lincoln, NE
Did you know that metal crowns can withstand tremendous force? This trait comes in handy in the back of the mouth where they are used to grind food. But metal crowns or even crowns that combine metal and porcelain can attract the wrong kind of attention. For the teeth that show when you speak and smile, you want to have a dental crown that subtly blends in. That's why we offer metal-free, all-porcelain dental crowns in our Lincoln, NE dental office. Our experienced team at Williamsburg Dental can provide completely personalized crowns for a more confident smile. Do you have a tooth in need of repair? Schedule an appointment with us, and we'll get you set up with all-porcelain dental crowns in Lincoln, NE.
When would I need an all-porcelain dental crown?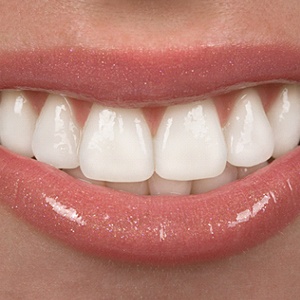 In many cases, without dental crowns, teeth would need to be extracted altogether. A dental crown can be used in many situations, including:
Repairing a badly damaged or decayed tooth.
Strengthening a weak tooth.
Covering a small or misshapen tooth.
Restoring a dental implant.
All-porcelain crowns specifically are typically used for more visible teeth toward the front of the mouth.
What are the benefits of all-porcelain dental crowns?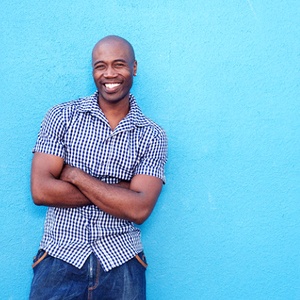 Dental crowns in general have many advantages, but the all-porcelain variety are particularly beneficial. Although not quite as durable as metal crowns, porcelain crowns are still able to withstand years of use and wear. In addition, if you have metal allergies or sensitivity, all-porcelain crowns spare you from any discomfort. Plus, they reflect light just like a natural tooth, so the result looks as natural and lifelike as possible. In fact, no one should be able to tell that you ever had dental work done in the first place, giving you more confidence to let your smile show.
How is an all-porcelain dental crown placed?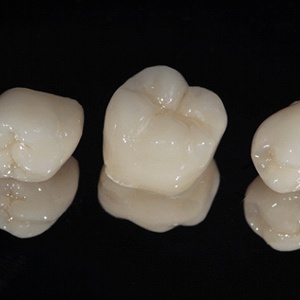 Once we decide that you need a porcelain dental crown, we'll make any necessary preparations, which can include removing decayed structure or tissue, placing the abutment for the dental implant, or removing a small portion of the enamel to make room for the crown. Then, we'll take impressions of your teeth and place a temporary crown. Your impressions will be sent to a dental lab, where your custom crown will be fabricated from porcelain. When it is ready, you'll return to our dental office, and your dentist will bond the crown over the tooth or implant for a flawless look.
Am I a good candidate for an all-porcelain crown?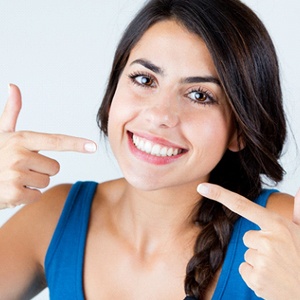 The best way to determine whether an all-porcelain crown is right for your smile is to schedule a consultation with one of our dentists. They can evaluate your teeth and recommend treatment based on your needs and goals.