Root Canals Can Save Your Natural Teeth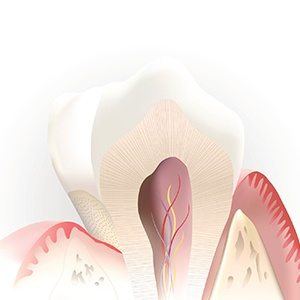 Do you need root canal therapy? Root canals are used to repair and save teeth that are badly decayed or infected. When the nerve pulp of a tooth becomes infected, our dentists can use the root canal procedure to remove damaged tissue and clean and seal the inside of the tooth. Once completed, the procedure should be able to preserve and protect the natural tooth from further infection and reduce the possibility of extraction. As a bonus, the root canal procedure will also eliminate all of the pain, discomfort, and sensitivity the infection was causing.
At Williamsburg Dental, root canals are quick and gentle procedures that will immediately relieve your aches and anxiety. A root canal today could save you thousands of dollars in tooth replacement costs tomorrow. Make an appointment with the highly qualified dentists of Williamsburg Dental today.
Why You Might Need a Root Canal
In most cases, root canals are simple treatments that involve little to no patient discomfort. Within the walls of each of your teeth, a strand of dental pulp with nerves, nutrients, connective tissue, and blood vessels laces downward into the tooth's root. However, this pulp is not vitally important to the health of your tooth after it has emerged from the gums. At this point, its only function is sensory. The presence or absence of a nerve will not affect the day-to-day functioning of your tooth. If the dental pulp becomes infected, it can die, cutting off the nutrients and nerve signals which the tooth needs to be healthy. If the infected pulp is untreated left in the tooth, it will usually cause quite a bit of dental pain, and eventually, the tooth will need to be extracted. However, a root canal can save it.
Root Canal Benefits
In the not so distant past, there was really only one way to deal with an infected tooth: Extraction. Fortunately, today we have another option. In the short term, root canal therapy will alleviate toothache pain and sensitivity. And in the long term, it will also prevent the bone loss and gum recession that results from missing teeth, prolonging the health of your surrounding teeth and preserving your youthful facial features.
Relieve Your Pain Today
Untreated tooth infections can only worsen over time, so don't delay your treatment unnecessarily. The longer you wait, the more likely your tooth will need to be extracted. Make an appointment with the experienced and compassionate dentists of Williamsburg Dental for the root canal therapy you need today.