Veneers – Lincoln, NE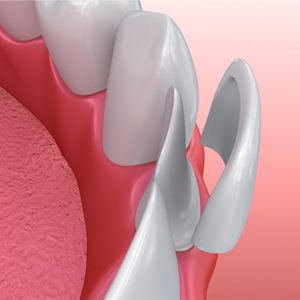 Veneers of the past were rarely worn on a daily basis. During their initial conception, they were strictly temporary and only used by actors on a film set. Over the decades, veneers became more and more advanced. Researchers changed the materials used and their application process. Today we use porcelain to cover imperfections in teeth thanks to its stunning, lifelike appearance to natural teeth. Now you too can achieve a perfect smile that looks natural while withstanding daily activities.
If you're tired of looking at your smile in the bathroom mirror, contact a dental office near you and schedule a cosmetic consultation to discuss porcelin veneers in Lincoln, NE! Our dentists are more than happy to help you achieve your smile goals.
What are Porcelain Veneers?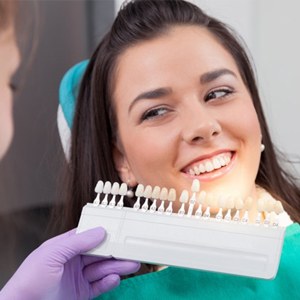 When we talk about porcelain veneers, we're referring to ultra-thin sheaths of dental ceramic designed to bond to the surface of teeth visible in your smile. Each veneer is custom-made to blend in with the rest of your natural teeth exactly, which is why the fabrication process takes several days to complete. During your consultation, our dentists make sure to take each and every detail into account when designing your veneers, including their shape, size and color.
What are the Benefits?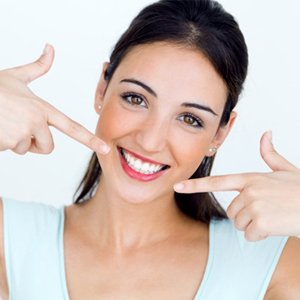 One of the most notable benefits of porcelain veneers is their versatility. Unlike other cosmetic treatments that typically address one or two types of imperfections, porcelain veneers are capable of treating a large variety of issues all simultaneously. These include:
Permanent discolorations
Chips and cracks
Undersized teeth
Close gaps
Slightly misaligned teeth
Furthermore, porcelain is a naturally stain-resistant material because of its incredibly smooth surface. This is far different than the porous structure found in natural tooth enamel. While veneers are not one-hundred percent stain-proof, you'll quickly find them to be far less susceptible to stains in comparison.
Treatment for Porcelain Veneers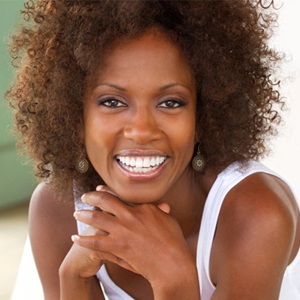 The process for receiving porcelain veneers is relatively straightforward. First, we'll examine your teeth for decay and your gums for inflammation, as these conditions need to be handled before any cosmetic treatment can be performed. Afterwards, we'll make sure to take note of all of your smile goals, then begin the process of minimally removing a very small amount of enamel. This ensures that your veneers sit flush and look flat next to the rest of your teeth.
Next, we'll take impressions of your teeth and send them to an offsite dental lab for fabrication. This process takes about two weeks to complete, but you'll receive a temporary veneer/veneers to cover your tooth/teeth and help you get acclimated to your new appearance. Once the veneers are created, you'll come back for a second appointment to have them fitted. If you aren't happy with your look or a veneer doesn't quite look right, we'll make adjustments to them as needed.
Caring for Your Porcelain Veneers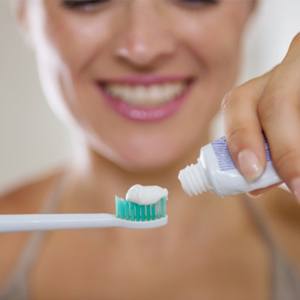 To keep your veneers looking sharp, brush twice a day with a fluoridated toothpaste and floss daily. Visit our dental office once every six months for checkups and cleanings and avoid using your teeth to perform tasks that are better suited for a tool. Keep in mind that while porcelain is very durable, it can still scratch or become damaged. With proper care, they should last at least 10 years.
Understanding the Cost of Veneers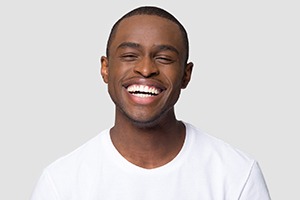 Veneers, like many other dental procedures, are entirely custom. For some patients, only a couple of veneers are necessary to hide unappealing flaws, but others require many more veneers to create the smile they're looking for. At your consultation, our experts can determine what your specific needs are and the best possible course(s) to get the look you want. Then, we can talk about numbers and help you decide whether veneers is the right choice for you. Contact us to get started today!
Cost in Cosmetic Dentistry: What's Right For Me?
Believe it or not, veneers aren't the only option available in cosmetic dentistry. Cost is likely a major factor in your decision, so you need to consider which may be ideal for you.
Invisalign Clear Braces. Instead of simply covering up cosmetic flaws, Invisalign actually shifts the teeth into better alignment. This process not only can take about 12 months to complete, but it also can cost a little bit more than some other cosmetic procedures.
Teeth Whitening. If the main trouble with your teeth is that they are discolored, teeth whitening offers a fast, affordable way to boost your smile to the next level.
Veneers. Little chips, cracks, gaps, or other imperfections can detract from your beautiful smile, but you may be able to cover them up with either a veneer or two or an entire set, affecting the cost.
How to Make Veneers Affordable
Unfortunately, although our offices accept basically all dental insurance, most policies do not cover veneers because they are considered purely a cosmetic procedure. This means that you'll need to pay the entire cost out-of-pocket. However, Williamsburg Dental is happy to receive payment through CareCredit, which offers affordable financing. In other words, you can break up the total cost of treatment into small, manageable monthly payments, making treatment less of a strain on your budget.
Veneer FAQs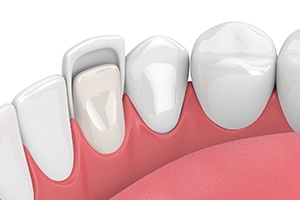 Correcting your smile may seem like a big investment, but it's something you can enjoy every single day. However, we understand that before you move forward with veneers you may have questions about this treatment. We're happy to address your concerns in person during your consultation, and you can take a look at our responses to some common questions below. We look forward to helping you have confidence in your smile!
How Long Do Veneers Last?
Generally, veneers are exceptionally durable and stain resistant, and with the right maintenance, they can last for many years. Although the average lifespan of veneers is around 10 to 15 years, some can last 20 years or even longer! How long your veneers will last largely depends on how well you care for them and the wear you put on them. Every day, you need to brush and floss your teeth and have regular dental visits to avoid infection and decay. If you have poor dental habits, such as chewing on ice or opening packages with your teeth, you should try to stop. Otherwise, you could damage your veneers as well as your natural tooth structure.
How Many Veneers Will I Need?
Each patient has a unique smile with distinctive needs. While one patient may only need one or two veneers, another may require a larger set of 10 to 12. To get a more symmetrical, balanced look, many patients end up getting six to eight. If you have a chipped or cracked tooth, you may be able to get a single veneer to complete your smile again. When you come for your consultation, we can determine the number of veneers that you'll need to achieve your smile goals.
Can You Whiten Veneers?
The materials used for veneers are not affected by whitening solutions. Even if the veneers are stained, whitening treatment will have no impact on them; the only way to correct stained veneers is to replace them. Keep in mind that whitening will change the coloration of your natural teeth, and if you whiten while you have veneers, you may have different shades in your smile. If you would like to get veneers on some teeth and whiten others, we recommend whitening your teeth first so that your veneers can be matched to your brighter shade.
Is There Anything I Can't Eat with Veneers?
While you wait for your permanent veneers to be fabricated, you'll need to wear temporary ones. These tend to be less durable and less resistant to stains, which means that you may want to avoid sticky foods that could take the veneers off and darkly pigmented drinks and foods. Other foods to avoid with temporary veneers include raw fruits and vegetables and other hard, crunchy foods. After your custom veneers are bonded in place, you should be able to eat almost anything you'd normally eat; however, you may want to take it easy with extremely crunchy foods to reduce the wear and tear.