Dental Bridges – Lincoln, NE
Tooth Replacement Made Simple
Sometimes, it isn't necessary to replace the entire tooth's structure. Maybe you only have a couple or even just one missing tooth, in which case, you can simply replace the crown portion with a dental bridge. At Williamsburg Dental, we consider your needs and goals and recommend treatment for your unique smile, and sometimes a bridge is the best way to go to replace teeth. To see if this restoration is the right choice for you, contact us for an appointment.
What is a Dental Bridge?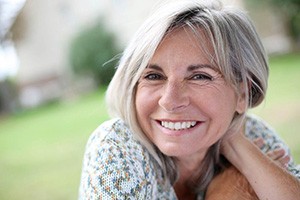 Bridge treatment involves the use of a prosthetic tooth or set of teeth to replace up to three missing teeth in a row. Two abutment crowns are placed on either side of the gap created by the missing teeth, and pontics (prosthetic teeth) are attached in between to span the gap. Your bridge will be meticulously crafted to blend seamlessly with the rest of your smile, matching the size, shape, and color of your natural dentition.
Types of Dental Bridges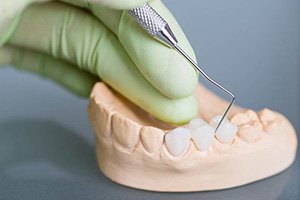 Overall, there are two kinds of dental bridges to fill in missing teeth. During your consultation, we can discuss which option would be best for your mouth and situation.
Traditional Dental Bridge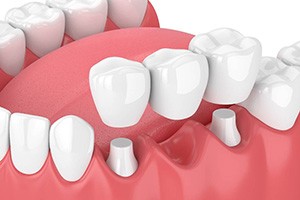 Traditionally, a dental bridge is attached to the two healthy teeth on each side of the hole. The enamel on these abutment teeth is reduced to make room for the bridge, but they also serve as stable anchors for the restoration and enable you to complete your smile without having to get dentures. With the proper care, traditional bridges usually last up to 10 years.
Implant Bridge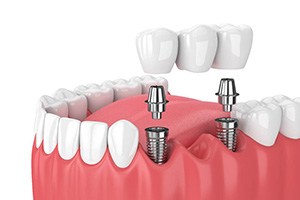 Similar to the traditional version, an implant bridge has one or more false teeth in the middle, but instead of bonding to existing teeth, the bridge is fixed to two dental implants. Secured directly to the jawbone, implant bridges are much more efficient than having a single implant for each missing tooth, but they offer the same benefits, such as a strong bite, no impact on your remaining healthy teeth, and more!
The Benefits of Getting a Dental Bridge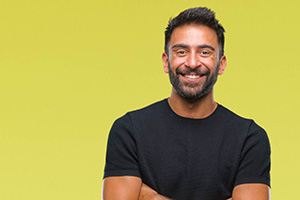 Compared to not replacing missing teeth, getting a dental bridge offers many advantages for your smile. For example, with one or missing teeth, your remaining teeth will shift out of alignment, which means your smile will have more gaps in it. As a result, your bite will change, potentially leading to additional tooth loss. Bridges keep your teeth appropriately spaced. In addition, implant bridges specifically strengthen the jawbone, which usually weakens after tooth roots are removed, and make it possible to continue eating a healthy diet.