Dental Crowns – Lincoln, NE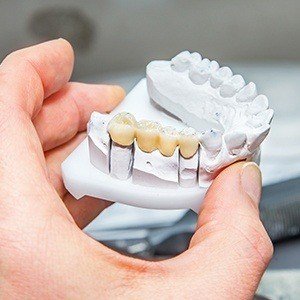 When the structural integrity of a tooth is compromised by deep decay or injury, a restoration called a crown may be placed in order to preserve the tooth, protecting it from further damage. This restoration may be fabricated using gold, metal alloys, ceramic, acrylic, porcelain, or a combination of these materials. A crown serves as a "cap" over the tooth, covering the entire surface area. Dental crowns in our Lincoln, NE dental office may also be used to complete a dental implant restoration, serving as the visible portion of a replacement tooth. To replace multiple missing teeth in a row, crowns may be used to support a restoration called a bridge.
What are Dental Crowns & Fixed Bridges?
Crown and bridge treatment involves the use of a prosthetic tooth or set of teeth to replace up to three missing teeth in a row. Two abutment crowns are placed on either side of the gap created by the missing teeth, and pontics (prosthetic teeth) are attached in between to span the gap. Your crowns and bridges will be meticulously crafted to blend seamlessly with the rest of your smile, matching the size, shape, and color of your natural dentition. Teeth located in the back of the mouth tend to require a material stronger than porcelain in order to endure the strain and pressure of chewing.
Additional Benefits of Dental Crowns
Crowns are not only used to secure bridges and complete dental implant restorations. They may also be used in the following ways:
To protect a tooth that has been fractured
To prevent a weak tooth from chipping or fracturing in the future
To restore a tooth that has undergone endodontic therapy (root canal treatment)
To cosmetically enhance a tooth that is too small, misshapen, or badly discolored
To replace a filling in a tooth that has sustained too much damage for traditional fillings
At Williamsburg Dental, we aren't satisfied until you absolutely love your smile. We look forward to providing you with the restorative dentistry solutions you need in order to enjoy optimal oral health and a smile you're proud to show off to the world. To schedule an appointment, contact us today.