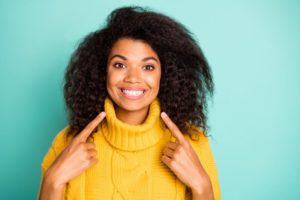 As you stand in the oral care aisle at the store, you debate whether you should try the whitening treatment there or talk to your dentist about professional teeth whitening. You can't deny that the price is right for the products in front of you, so why would you choose to brighten your smile at the dentist's office?
Well, the truth is that professional whitening has a lot more to offer than what you'll find anywhere else—even online. Keep reading to learn the difference that this option offers and why you should consider contacting your dentist for teeth whitening!
Quicker Results
With take-home whitening kits from your dentist, the timeframe is usually the similar to store-bought treatment; however, you should start to notice a difference much sooner with the former. Within a few days, you may see the treatment working, but to enjoy the full effect, you continue using it for as long as prescribed by your dentist.
Unlike at-home treatments, which require about two weeks, professional whitening in the dentist's office is performed in just one appointment. In fact, results are usually achieved in about an hour!
More Strength of the Whitening Gel
Whether you purchase a whitening pen, strips, or trays from the store, they do not compare to the power of the gel you get when you work with a dentist. This professional can prescribe stronger hydrogen or carbamide peroxide than anything you will find available to you at the store or online.
You can brighten your smile by a couple of shades with commercial whitening, but you can remove up to 8 or even 10 shades of discoloration with professional-grade whitening solutions!
More Even Coverage with Custom Whitening Trays
When you opt for the cheaper, store-bought whitening treatment, you most often get whitening strips or trays that are meant to be one-size-fits-all. In other words, the trays are not likely going to fit your mouth exactly. As a result, you can have uneven coverage and results.
On the other hand, when you get your whitening done by your dentist, they take impressions of your teeth and have custom trays made specifically to fit your mouth. The gel can, therefore, evenly reach all the surfaces you want to whiten, and you're left with a uniformly brighter smile.
In the end, when you take into account the benefits that professional whitening provides, the extra cost seems worthwhile to ensure that you see the results you want. So walk away from the whitening aisle and contact your cosmetic dentist for a consultation today!
About the Practice
With nine total dentists on staff and six locations throughout Lincoln, Williamsburg Dental is proud to offer professional whitening as well as many other cosmetic, restorative, and preventive services. Each dentist may have a unique background, but they all share a passion for healthy, confident smiles. If you would like to learn more about professional whitening treatment, you can contact one of our locations online or by calling us.