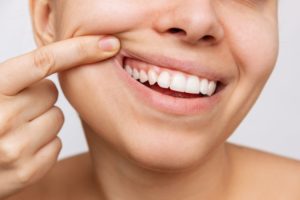 One day, after you've finished brushing your teeth, you notice that your gums look swollen and darker than usual. In other words, they are slightly irritated and inflamed. How did this happen?
Understanding the potential causes can help you know what to do to address this problem, so keep reading to learn four ways that you can disrupt and disturb gums.
Not Flossing or Flossing Incorrectly
It is estimated that only about 30 percent of people floss every day, but the truth is that brushing alone only cleans roughly 50 percent of the plaque in your mouth. The surfaces your brush can't reach, namely in between teeth, are ideal places for oral bacteria to accumulate near the gums. As a result, an inflammatory infection called periodontal disease can quickly cause your gums to become red, sensitive, and puffy and then eventually recede.
Even if you do floss daily, you could be doing it incorrectly, leading to the same problem. Make sure you are gently gliding the floss between your teeth, not snapping it, and you floss up against both sides of your teeth beyond the gumline to clear out plaque in these hard-to-reach areas.
Brushing Too Hard
Believe it or not, you can go overboard when it comes to brushing your teeth. Using excessive force can not only wear down your enamel more quickly, but it can also irritate and push your gums away, causing them to recede. You don't really need to apply much strength to get an effective clean on your teeth. When you brush, use small, gentle circles to clear away bits of foods, plaque, and bacteria.
Eating Certain Foods
When you eat crisp chips or other crunchy foods, you run the risk of a sharp point or edge hurting your gum tissue. Instead, you can have celery or carrots, which are also crunchy but can help clean your teeth and gums.
Although some foods clearly can have a direct impact on your gum tissues through their sharp edges, others can be detrimental indirectly. For instance, sugary foods can actually fuel the bacteria responsible for gum infections that irritate the tissue. Eating too much sweets can increase your risk of gum disease, while limiting your consumption of sugary treats can help you avoid it.
Using Commercial Teeth Whitening
The chemicals used in the teeth whitening treatments you get from the store are different from those you can get with your dentist. In addition to being less powerful, the trays or strips used aren't customized to your unique teeth. As a result, the chemicals can touch and irritate gum tissue.
In this case, the solution is simple—work with your dentist who makes sure the gums do not come into contact with the whitening gel, preventing irritation.
Regardless of the cause of your gum issues, be sure you are brushing and flossing daily and going in for your twice-a-year dental checkups and cleanings. That way, you and your dentist can keep a close eye on your gums and keep them nice and pink!
About the Practice
At Williamsburg Dental, we generally take a preventive approach to oral health, but when it's necessary, our dentists have the training and skills to treat periodontal disease. We have six locations in Lincoln, meaning we are always close by regardless of where you're located in the area. If you have irritated gums or think you may have gum disease, just reach out to one of our locations and set up an appointment by clicking here.