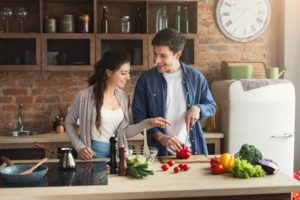 Gum disease—at first it may not seem like a huge deal, but when you look at the facts, it can be downright frightening. About half of adults over the age of 30 have untreated gum disease, which is the leading cause of tooth loss. Those who have this pervasive condition are two to three times more likely to experience a cardiovascular event like a heart attack or stroke. Countless studies have brought to light undeniable links between gum disease and other serious and potentially life-threatening diseases.
So how can you prevent or treat this condition before it wreaks havoc on your smile and your body? Although professional help through cleanings and periodontal therapy is required, you can do your part through your diet choices. Below are foods and drinks that actually help fight gum disease!
Shiitake Mushrooms
This type of mushroom contains chemicals that naturally fight inflammation and infection. In the mouth, they promote good bacteria and reduce bad bacteria. Paired with other smart food choices, they can make it easier to avoid gum disease.
Red Bell Peppers
To fight off infection and inflammation, your body needs plenty of Vitamin C. Although oranges and other citrus fruit are good sources, they are acidic, which means they could weaken enamel. Fortunately, red bell peppers offer well over your daily allotment of Vitamin C without posing the same risk to your teeth.
Salmon
In salmon and other oily fish, omega-3 fatty acids are rich and abundant. This and other nutrients in salmon help your body keep inflammation to a minimum, which can either prevent gum disease from happening in the first place or fight an existing infection.
Grass-Fed Beef
When it comes to your gums, the feed of your meat matters. Grass-fed beef offers high levels of omega-3 fatty acids, collagen (which strengthens connective tissues like the gums), and Vitamin A (which can help fight infections).
Green Tea
For centuries, green tea has been consumed to decrease swelling and prevent gum disease, but it can also help restore gum tissue through new growth, making it an important aid and treatment after gums have receded.
Water
Compared to any other drink, water is the ultimate beverage for benefitting your gums. There is absolutely no sugar, which means it actually neutralizes the acids in your mouth. In addition, water not only helps rinse food debris and plaque away, but it also keeps your mouth hydrated and less hospitable for bacteria to thrive.
By making certain choices in your diet, you can either avoid gum disease or stop it in its tracks. When you add in diligent oral hygiene and regular dental visits, you don't have to become a sad statistic. You can improve your well-being with a strong smile!
About the Practice
In Lincoln, Williamsburg Dental has six convenient locations, which means you're bound to find one close to you. Our dentists not only have years of advanced training and experience, but they also are passionate about outstanding service and care about each patient's needs. We certainly are prepared and able to treat gum disease or replace teeth, but we encourage prevention as much as possible. If you think you have gum disease or would like to learn more about it, you can schedule an appointment by reaching out to one of our offices.