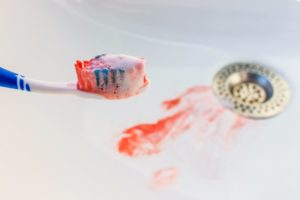 It's getting late in the day, and you're exhausted. You have work in the morning, but you lose track of time watching your favorite show. To make up for it, you decide to cut your going-to-bed routine short tonight. As you half-heartedly brush your teeth and spit out, you notice pink toothpaste in the sink. A quick look in the mirror reveals your red, puffy gums, the first signs of gingivitis or gum disease.
While many questions pop into your mind, the most pressing concern for you is how long this symptom will last. However, you should understand more about bleeding gums and gum disease before you can answer how long it will take to overcome this issue. Read on to get the information you need!
What Causes Bleeding Gums?
Healthy gums are pink and firm, but infected gums are swollen and red and bleed easily. Specifically bleeding gums are a symptom of early gum disease, called gingivitis, which occurs when harmful bacteria from plaque irritate and inflame the gums.
When gum disease goes untreated, it can do much more than give you bleeding gums. Over time, the gums pull back from the teeth, exposing the sensitive roots and supportive bone tissue. Eventually, the infection erodes the bone and causes tooth loss. In addition, multiple studies have shown a strong connection between gum disease and major medical conditions like heart disease, diabetes, kidney disease, and Alzheimer's. That's why it's important to address this infection as soon as possible!
How Are Bleeding Gums Treated?
At this early stage, gum disease can be eliminated through simple habits. Brushing and flossing every day keeps plaque and bacteria from accumulating near the gum line, and going in for your dental checkup and cleaning at least every six months ensures that buildup is removed before causing a gum infection. At later stages, treating gum disease becomes more complex, which is why it's important to maintain proper oral hygiene at home and see your dentist regularly.
How Long Will It Take to Stop Bleeding Gums?
The time it takes to get rid of the bacteria that cause gum disease depends on how serious the infection is. Mild cases of gingivitis can be treated through daily brushing and flossing, and bleeding may stop within a week or so as the inflamed gums settle down. However, if plaque has hardened (becoming tartar), a professional hygienist will need to remove the buildup before you notice a significant difference.
Even if you're in a hurry to get out the door in the morning or to hop into bed, it's worth taking the time to properly brush and floss your teeth. That way, you can avoid seeing "pink in the sink" and keep your teeth and gums going strong.
About the Practice
With locations throughout Lincoln, there's certainly a Williamsburg Dental close to home. We have eight dentists on staff to meet patient needs ranging from simple, routine checkups and cleanings all the way through more complicated work in gum disease therapy and dental implants. If you are experiencing bleeding gums, you can contact Williamsburg Dental through our website or by calling and schedule an appointment.