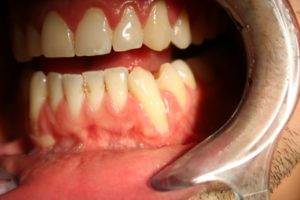 You're a pretty laid-back, easy-going person. You don't get worked up over little things, and you try to be low maintenance. While these characteristics may be valuable in some areas of life, they may not be helpful if you take this approach to your oral health.
At your dental appointment, your dentist tells you that your gums are receding, but what exactly does that mean? Can gums grow back? Is this something you should actually worry about? Read on to find out!
What Causes Gum Recession?
The most common reason that gums pull away from teeth is gum disease, also called periodontal disease. This occurs when the bacteria in plaque create an inflammatory infection. At first, the gums appear red and puffy, but eventually the tissue that connects the gums to teeth breaks down, leading to gum recession.
Do you take excellent care of your oral health and still experience this symptom? You can also see your gums start to recede if you brush too aggressively. If that's the case, use a toothbrush with soft bristles and try not to press hard when you brush to avoid pushing gums further.
Why Are Receding Gums Bad?
At first glance, perhaps having less gum tissue doesn't seem like a big deal. In the beginning, all it does is make your teeth appear a little longer than usual. However, if recession continues, the teeth can appear disproportionately large. Also, when gums pull away from unprotected tooth roots, you'll be much more likely to experience sensitivity to hot and cold foods and drinks.
In addition to being an aesthetic eyesore and uncomfortable, receding gums are less able to hold teeth firmly in place. In fact, as gum disease progresses, jawbone loss also occurs, which means that teeth can become loose and even be lost entirely.
Do Receded Gums Grow Back?
Unfortunately, once gums have receded, there's no way for them to grow back without extensive and sometimes even painful procedures. In some cases, a gum graft, which involves taking soft tissue from another part of the oral cavity, can be used to cover exposed teeth roots. Keep in mind that a bone graft may also be needed to secure teeth or dental implants and overcome the damaging effects of gum disease.
What Can You Do about Receding Gums?
Although receding gums can't make a simple comeback, you can stop them from getting worse. If you have gum disease, it's important to get treated as soon as possible to increase the chances of saving your natural teeth. You need to take your oral healthcare seriously to protect your entire smile—gums included.
You don't have to change who you are, but you should be concerned about receding gums. Putting in some effort in your oral care at home and in the dentist's office can help you keep your gums healthy. That way, you can keep on smiling and roll with the punches.
About the Practice
At all six locations spread around Lincoln, Williamsburg Dental is proud to provide a comfortable, modern environment for patients to receive care. Each team member is warm and welcoming, dedicated to giving you the best possible experience every time you come to visit us. If you have receding gums, our highly trained dentists can quickly administer treatment to get your periodontal disease under control. Contact us to schedule your appointment today!