Dental Implants in Lincoln, NE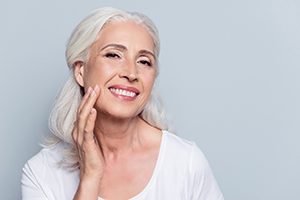 If you have missing teeth, you may wish to consider dental implants. We offer implant dentistry services designed to restore your teeth and maintain the structural integrity of your mouth. At our office, we can place the implants and restore the porcelain tooth on top of it to make it both beautiful and functional. To learn more about what this treatment can do for you, read on below or contact us today for a consultation.
Implant Placement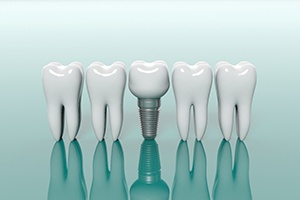 A dental implant is actually a small titanium post that is placed into the jawbone to mimic the root structure of a lost tooth. In order to get it, you will need to undergo a minor oral surgery at our practice. This procedure can usually be completed using only local anesthesia, and most patients report little to no pain during or afterward. Once it is completed, you'll be given 3-6 months to heal, during which time the implants will naturally bond with the surrounding jawbone. After this, you'll return to our office to receive your replacement teeth
Implant Crowns & Bridges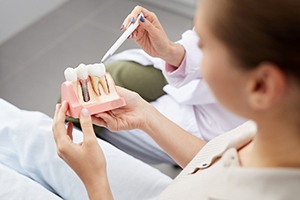 If you are missing a single tooth, we can restore it using something called an implant-retained crown. This will involve a custom-made all-porcelain crown that is attached directly to an implant post via a small metal connector called an abutment. Thanks to the stability provided by the post and the quality of dental porcelain, this new tooth should look, feel, and act just like your other natural teeth.
If you have a few missing teeth in a row, we can actually place two of these crowns on either side of the gap and bond them to prosthetic teeth that sit on top of the gums to close it. This is called an implant-retained bridge, and it can restore your smile's appearance and function at the same time. Compared to a traditional bridge, it has a stronger hold, looks more lifelike, and can be expected to last much longer.
Implant Dentures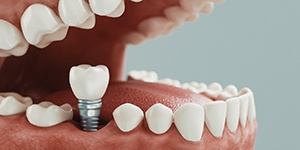 Dental implants are so versatile that they can also be used to support a full denture. If you're tired of dealing with uncomfortable dentures that never seem to stay in place, and implant-retained denture may be exactly what you need to reclaim your smile. More and more dentists and patients are choosing implant-retained dentures over removable ones because they offer a number of additional benefits:
Stronger Hold:Because implant dentures are anchored directly into the jawbone, they will have much more security and stability compared to a regular denture that relies on natural suction to stay in place.
More Consistent Fit: The implants themselves will support your jawbone from within, helping it maintain its shape over time, which will, therefore, make your dentures keep their fit for much longer.
Stronger Bite: Implant dentures give a patient a much stronger bite compared to a removable prosthetic, enabling them to enjoy a more varied and healthy diet with ease.