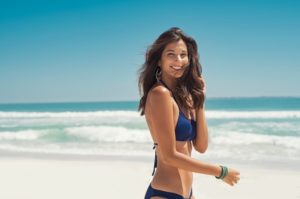 This summer, you can't wait to hit the beach! Just the thought of soaking up the sunshine puts a smile on your face, but is it in the right shape for the beach? If you have imperfections in your teeth you hate, you may not be able to fully enjoy the moment with a confident smile. Here are four steps you need to follow to get your teeth beach ready!
Step #1: Identify the Problem
To fix an issue, you need a clear idea of what you want to change. Do you want to brighten the color of your teeth? Do you have little chips or gaps that you want to hide? Understanding the traits you want to address going into your dental consultation can help you communicate your needs and goals to your dentist, who will then examine the current state of your smile. Being clear about what you want to accomplish can make the appointment and your overall experience go more smoothly.
Step #2: Choose the Right Treatment
At your consultation, after looking at your teeth, the dentist can recommend certain procedures for certain outcomes. In other words, they can help you decide on the cosmetic treatment that will give you the results you're hoping for.
For instance, if you know you want to whiten your teeth but you aren't sure if you should go with the in-office or take-home solution, your dentist can help you determine the best option. For more serious flaws, the choice between veneers and cosmetic bonding can be tricky, but just remember that you're not alone!
Step #3: Get Treated
After you've picked the treatment you want, it's time to actually correct the imperfections. Keep in mind that not all procedures take the same amount of time to complete. As one of the fastest, in-office teeth whitening is typically done in about one hour, but porcelain veneers requires two separate appointments over the course of a few weeks. As a result, you need to plan accordingly. If you want to be beach ready but need more work, make sure you budget enough time to meet the deadline for your beach trip.
Step #4: Enjoy Your Smile!
When you've gone through the other steps to have a beautiful smile, it needs to be seen. In addition to sharing your smile with those around you, be sure you take plenty of selfies with your friends and family and capture meaningful moments you can cherish for years.
Ultimately, loving your smile may not make or break your beach experience. However, having teeth you're proud of can give you the freedom to smile when you feel like it without embarrassment or hesitation. So get your smile in beach-ready shape today!
About the Practice
If you are unhappy with the appearance of your smile, Williamsburg Dental can help you get the look you want. With cosmetic procedures including both take-home and in-office whitening, porcelain veneers, and more, you're sure to find treatment can make your dreams a reality. To schedule a consultation at one of our six locations in Lincoln, visit us online or call that location directly.