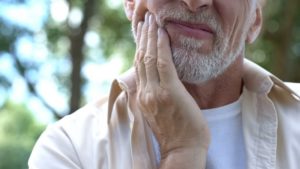 One day as you brush your teeth and spit, you notice some blood mixed in. You take a closer look at your mouth and see that your gums are red and puffy, instead of pink. You start to worry—maybe cancer runs in your family, or maybe you smoke or drink a lot of alcohol, which puts you at an increased risk. Could this be oral cancer or gingivitis (i.e., gum disease)? How can you tell?
Here is some useful information to help you identify the issue and know what to do.
Recognizing Oral Cancer
Although oral cancer isn't one of the most common, it is unfortunately a deadly one because it spreads so quickly and often goes undetected. Only about 57 percent of those diagnosed are living 5 years later.
The most prominent symptom include red or white lesions in the soft tissues. However, they often appear toward the back of the mouth or at the base of the tongue, which can be difficult to see on your own. As a result, frequent screenings are extremely beneficial.
Recognizing Gum Disease
Although gum disease may not be deadly, it eventually leads to tooth loss, which can shorten a person's life expectancy. The early signs of gum disease include the following:
Red, swollen gums
Sensitive gums that bleed easily
Chronic bad breath
Gum recession or your teeth appearing longer
Are Oral Cancer and Gingivitis Related?
Although early symptoms of both (e.g., red soft tissue) can appear similar to the untrained eye, these two conditions have nothing to do with each other. Gingivitis in no way leads to oral cancer, although some studies suggest a strong connection between gum disease and significant diseases, potentially including other forms of cancer.
Early Detection Matters
In both oral cancers and gum disease, it is important to diagnose and treat the problem as early as possible. In fact, with early detection and treatment, the oral cancer survival rate increases significantly. When it comes to gum disease, the sooner your dentist can address the condition, the better. Delaying treatment only increases the chances of tooth loss and permanent damage to your jawbone.
The good news about these conditions is that they are actually quite easy for a professional to identify. Although you may not be able to see lesions forming or red, puffy gums, a trained dentist can. In addition, they know the differences between two conditions and can properly diagnose you so you receive the care you need.
That's why your dentist provides a full oral examination during your routine checkup every six months. This appointment allows them to look for anything amiss, including with your soft tissues, and get you on the path to wellness if something is wrong. When you go to these regular dental visits, you're more likely to catch gum disease or oral cancer earlier, which could definitely save your smile but also save your life!
About the Practice
Williamsburg Dental is located throughout the Lincoln area in six locations. Our highly experienced and trained dentists deliver compassionate, expert care during every appointment, even if it's just a checkup. At every appointment, we keep an eye out for any signs of gum disease or oral cancer so our patients receive the care they need as soon as possible. If you would like to schedule an appointment at Williamsburg Dental, you may contact us here or call one of our six locations.