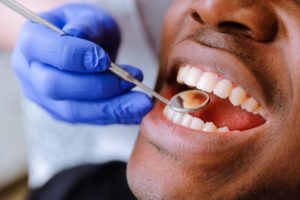 As you get ready to go to your six-month dentist's appointment, you look at your teeth in the mirror. They look fine to you—no cavities that you can see or feel. You wonder whether you really need to go. You absolutely do! This checkup is about so much more than just examining your teeth for cavities, cracks, or chips. Here are four important things you didn't know that your dentist does during your checkup appointment!
Looking at Your Gums
Teeth aren't the only parts of your smile that could have issues. Your dentist is checking to make sure your gum tissue is pink and firm. Red, swollen, sensitive gums are the first signs of gingivitis or gum disease, the leading cause of tooth loss. By keeping a close eye on your gums at your regular checkups, your dentist can make sure that the problem never gets to that point. At these checkups, they can intervene, get rid of bad bacteria, and help you avoid gum disease in the future.
Conducting an Oral Cancer Screening
Did you know that oral cancer is the sixth most common form of cancer? When it is diagnosed and treated early, the survival rate is very high! As an expert in the oral cavity, your dentist is the perfect professional to check for early signs of this condition on a regular basis. They can spot abnormal tissue and recommend taking the next steps toward diagnosis. An oral cancer screening only takes a couple of minutes and is completely painless. In fact, you may not even realize they're doing it!
Checking Your Bite Alignment
The way your upper and lower teeth match up matters. First of all, your bite influences how efficiently you are able to grind and chew your food. Proper alignment ensures that you don't have to work extra hard to eat. Also, if your arches aren't aligned correctly, certain teeth can wear down faster and need repair. Your dentist takes time to examine your bite so that your teeth can stay strong in the long term.
Teaching Proper Oral Hygiene
Your dentist can tell from a quick oral exam how well you're practicing healthy habits at home. A little plaque buildup happens to everyone, but if you have a lot of it, your dentist can take the opportunity to give you advice and demonstrate how you should brush and floss every day. Learning proper techniques empowers you to control the bacteria in your mouth and keep cavities and other problems to a minimum.
Ultimately, this "routine" appointment is essential for keeping your smile healthy. While your dentist is performing the checkup inside your mouth, you can rest easy knowing that your oral and overall wellness is at the center of everything they do!
About the Practice
With six locations in Lincoln, Williamsburg Dental is proud to serve patients of all ages. Our services range from regular checkups and cleanings to dental implant placement and restoration. We have seven experienced dentists on staff, and we take pride in the quality of care we deliver. If it has been a while since your last checkup and you need to schedule an appointment, you can contact Williamsburg Dental through our website.