Wisdom Tooth Extractions – Northeast Lincoln, NE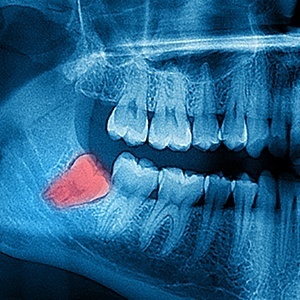 When the wisdom teeth, also known as the third molars, erupt, they can cause real, painful issues. The team at Williamsburg Dental performs wisdom tooth extractions in Northeast Lincoln, NE from the comfort of our state-of-the-art dental office.
All About Wisdom Teeth
The wisdom teeth are the third molars that usually erupt between ages 16 to 25. Unfortunately, there is usually not enough space in the gum line to support the additional teeth. Problematic wisdom teeth usually cause oral aches and tooth pain.
In addition to pain, the wisdom teeth can cause a number of problems for oral health and the surrounding teeth. These issues associated with wisdom teeth include:
Infection
Cyst formation around the tooth
Crowding of other teeth
Tooth decay and gum disease
Why do we have the wisdom teeth, anyway? Humans used to need these third molars. In the days when we ate tough, raw meat, roots, and other difficult-to-chew items, we were constantly losing teeth -- so an extra set came in handy. These days, though, our diet has changed, dental health has improved, and we no longer need the third molars. Fortunately, wisdom tooth extraction is a routine procedure that solves or prevents issues associated with these third molars.
Wisdom Tooth Extraction
Wisdom teeth become impacted when there is not enough room for the extra teeth to erupt properly in the gum line. Few people have mouths that can support four additional molars. When this is the case, one, two, or all of the wisdom teeth will become impacted. Impaction is the result of inadequate space in the mouth. There are three types of impaction.
Soft tissue impaction: When the tooth does not break through the gum tissue to allow for proper cleaning.
Partial bony impaction: When the tooth only partially erupts, making for difficult cleaning and possible orthodontic issues.
Complete bony impaction: When the tooth does not erupt at all due to a lack of space. It remains completely embedded in the jaw.
Wisdom tooth extraction is performed with local anesthesia for your complete comfort. Sometimes general anesthesia is used, like in cases where all the wisdom teeth are removed. To remove a problem wisdom tooth, your dentist opens the gum tissue and remove any bone that is surrounding the third molar. A simple extraction removes the tooth in one piece, while a complex extraction is when the tooth is removed in several pieces. The complex extraction method is used when the tooth is covered by bone, has grown in sideways, or is otherwise difficult to remove in one piece.
Recovery After Wisdom Tooth Extraction
After the removal of wisdom teeth, patients should plan to take it easy for several days for complete healing. Your dentist will prescribe pain medication to make your recovery as comfortable as possible.
Things to keep in mind throughout your recovery from wisdom tooth extraction:
Maintain a nutritious soft foods diet
Avoid drinking through straws
Use a cold compress in the first 36 hours following surgery to reduce swelling
Take pain medicine as directed
Monitor pain, bleeding, and swelling and notify your doctor if side effects worsen or do not improve after several days.
Get In Touch With Us Today!
Do you have one or more problematic wisdom teeth? Please get in touch with the team at Williamsburg Dental to discuss extraction today.