Emergency Dentistry – Northeast Lincoln, NE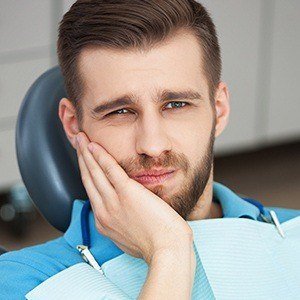 Dental emergencies -- there's no way to plan for them, and they're most likely to occur when you're least expecting it. They can be stressful, but it helps to know that you can call the team at Williamsburg Dental for fast attention and quality care. The next time an urgent situation pops up, don't wait! Call our dental office immediately, and know you'll be out of pain and on the road to recovery very soon. We offer same-day appointments for emergency dentistry in Northeast Lincoln, NE, and we can also help you know what to do to manage pain and swelling in the meantime with prompt over-the-phone advice.
Here we've listed a few of the most common dental emergencies to help you identify and seek a solution the next time one occurs to you or a loved one. Take note!
Knocked Out Tooth
If you're faced with a lost tooth, time is of the utmost importance, as the tooth has a much higher likelihood of being reattached if the procedure occurs quickly. Locate the tooth if possible, being careful to hold it by the crown rather than its root. Carefully rinse away any debris, and store the tooth in its socket if possible -- if not, place it in the cheek or a cup of milk until you reach our dental office.
Chipped or Broken Tooth
Collect all pieces of a chipped or broken tooth to bring with you to our dental office -- we may be able to reattach some of the bigger pieces. You can reduce facial swelling by placing a cold compress over the cheek in 15-minute intervals.
Toothache
If you've got a toothache, your mouth is trying to tell you something -- so listen to it. Manage pain with an over-the-counter medication like Aleve or Tylenol, and contact our dental office immediately for further instruction and an emergency appointment.
Children's toothaches, however, are most commonly caused by something stuck between the teeth. Help your little one by brushing and flossing their teeth thoroughly. If pain persists after thorough rinsing and flossing, contact Williamsburg Dental for assistance.
Lacerations to Soft Tissue
If you've sustained a serious cut or bite to your tongue, lip or gums, stop the bleeding by applying gentle but firm pressure to the area with a clean gauze or cloth -- and as always, call our dental office immediately. If bleeding hasn't subsided after 15 minutes, please go straight to the emergency room.
Dr. Long and the whole team here at Williamsburg Dental are committed to your oral health, and that means we take it seriously when you've got a dental emergency. Call us immediately and we'll get you in for an appointment on the very same day. Patients in Lincoln, Walton, Prairie Home and Cheney can all benefit from our quality emergency services. Call us to schedule an appointment as soon as an emergency arises!