Dental Cleanings – Northeast Lincoln, NE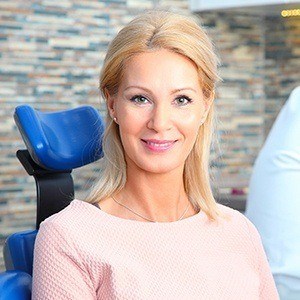 A clean smile is a healthy smile. That's why Dr. Long and her entire team at Williamsburg Dental emphasize your prophylaxis appointments—more commonly known as dental checkups. At these visits, we'll be sure to clean your teeth thoroughly and offer you some tips on how you can improve your oral hygiene routine at home as well as the benefits of professional dental cleanings in Northeast Lincoln, NE.
The Reason for Professional Teeth Cleanings
You may ask yourself: why do I need to see the dentist if my smile looks great and I'm not in pain? Because regular cleanings help to keep your smile attractive and your oral and dental health in tip-top shape.
During a dental cleaning, one of our experienced hygienists will clean each one of your teeth using a rotary brush and fluoride toothpaste in the flavor of your choice. Along with this, we'll remove plaque and tartar (mineralized plaque) in order to help prevent the development of cavities as well as gum disease. Removing plaque and tartar—also called debridement—is performed with ultrasonic instruments and hand instruments, such as a periodontal scaler or curette.
The American Dental Association recommends that everyone have at least two professional dental cleanings every year. Beginning around the age of two or three years old and continuing through the senior years, cleanings help to ensure optimal oral health and strong teeth that last a lifetime.
Oral Hygiene at Home
The professional cleanings we perform are important, but so is the day-to-day hygiene routine you do at home. And believe it or not, there is a right and wrong way to brush and floss your teeth. With this in mind, the dentists and their team at Williamsburg Dental offer the following pointers to help you do the best job of cleaning your teeth.
Always use fluoride toothpaste and a soft toothbrush. A hard toothbrush can scratch the enamel surface of your teeth.
Hold the brush at a 45-degree angle. This way, you can brush the entire surface area of your teeth as well as along the gum line where plaque tends to accumulate.
Brush the facial side of your teeth in a circular motion, the chewing surfaces in a back-and-forth motion, and the inner or lingual surfaces up and down.
Brush for at least two minutes. That's how long it takes to clean all the surfaces of your teeth well.
Floss at least once a day to remove plaque from between your teeth and along your gums.
Begin with about 18 inches of floss, so you have a clean section to work with between each pair of teeth.
Move the floss up and down and back and forth as you press against one tooth and then the other.
Please contact our dental office to schedule your checkup and cleaning at Williamsburg Dental. We warmly welcome patients from Lincoln, Walton, Prairie Home, Cheney and all neighboring communities.