Dental Crowns & Bridges in Lincoln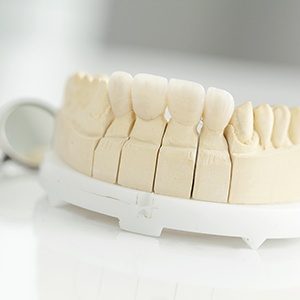 Decay, injury and tooth loss can happen to anyone -- and when they do, serious oral problems can develop as a result. When you've got decayed or missing teeth, it's vital that you seek a replacement solution as soon as possible to prevent the damaging side effects of an incomplete smile. To help you rejuvenate the health of your teeth when you need it most, Dr. Long offers quality crowns and bridges here at Northeast Family Dental. These devices provide Lincoln, Walton, Prairie Home and Cheney residents with custom, life-like restorations that blend flawlessly with the rest of the teeth.
Dental Crowns
Your Lincoln dentist may recommend a crown for a number of reasons -- the device restores or enhances the shape, size, color, health and strength of a damaged tooth. It's a thin, tooth-shaped covering that fits securely over the tooth, sealing it off from further damage or decay.
A few of the most common uses for a dental crown include:
Preventing a weak tooth from breaking
Holding together parts of a broken tooth
Restoring teeth from major decay
Enhancing the appearance of an aesthetically flawed tooth
Dental implant restoration
Dental crowns also play a crucial role in the function of a dental bridge.
Dental Bridges
Patients who are missing one or a few missing teeth can greatly benefit from dental bridges, which combine dental crowns with prosthetic teeth to complete a smile that's suffered from tooth loss. Good for the replacement of one or several teeth, dental bridges prevent the natural teeth from shifting to fill the gap, a crucial step for continued oral health.
What to Expect with Your Crown or Bridge?
If you and your Lincoln dentist decide a crown or bridge is just what your smile needs, you can expect the treatment to be completed over two to three appointments at Northeast Family Dental. Dr. Long will examine your mouth and prepare the tooth (or teeth) to receive the new restoration -- a process which involves buffing a tiny portion from the tooth to make room for the new crown. Then, impressions are made and all the important information is sent to our trusted dental lab, where expert hands craft your beautiful new restoration. Once it's ready, you'll come back to our office for the final placement -- and walk out the proud owner of your new, beautiful smile!
Caring for Crowns & Bridges
Once you've had your tooth restored with a beautiful crown or bridge from Northeast Family Dental, it's of utmost importance that you continue to maintain excellent oral hygiene at home. Brush for two minutes, twice a day, floss daily and avoid eating especially hard foods and sticky candies to maintain your restoration. When cared for properly, your crown or bridge can last for a lifetime.
If you'd like to trust the team at Northeast Family Dental with your crown or bridge, contact our office to schedule your appointment today! We can't wait to help you enjoy the benefits of a healthy, complete smile once again.