Teeth Whitening – Northeast Lincoln, NE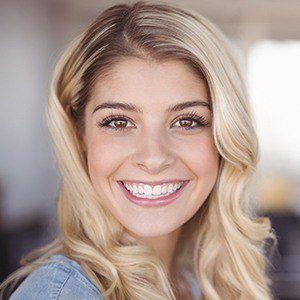 If you have noticed that your teeth are gradually darkening as the years go by, you will be glad to know that professional teeth whitening eliminates dental stains and allows you to smile bright once again. The team at Williamsburg Dental offers in-office whitening in Lincoln. The treatment is especially beneficial for people who notice their teeth darkening as a result of exposure to foods and beverages. Even patients who avoid coffee, red wine, and tea, however, can benefit from Opalescence® Boost Teeth Whitening in Northeast Lincoln, NE.
Professional Teeth Whitening vs. Home Kits
White strips and other whitening kits you buy at the pharmacy promise fast, dazzling results, but nothing whitens as powerfully as professional teeth whitening. While you will notice some bleaching effect with over-the-counter whitening kits, your dentist is equipped with the most concentrated, effective bleaching solution.
Other differences between Opalescence® Boost Whitening and white strips include:
Professional teeth whitening is customized to the size of your teeth
White strips may touch sensitive gums, causing discomfort or injury
In-office whitening takes an hour, on average
Opalescence® Boost Whitening can whiten teeth up to eight shades
Patients experience less tooth sensitivity with Opalescence® Boost Whitening
How In-Office Teeth Whitening Works
Opalescence® Boost Whitening takes around 60 minutes to complete. Unlike other whitening systems, the solution is mixed right before your treatment begins. Opalescence® Boost Whitening relies on chemical activation -- meaning there's no need to sit underneath a hot light throughout your treatment. Instead, whitening begins as soon as the bleach is applied onto your teeth.
In addition to revealing stunning results in just about an hour, the Opalescence® Boost Whitening system contains potassium nitrate and fluoride, to strengthen your tooth enamel against cavities and sensitivity.
While the average treatment time for Opalescence® Boost Whitening is one hour, mild discoloration may be treated even more quickly. Severe stains may need additional treatment. Patients who have especially stubborn stains, like those caused by certain medications, often find that Opalescence® Boost Whitening is the only thing that works for brightening their teeth.
How Long Teeth Whitening Lasts
After you have completed your professional teeth whitening treatment, you can maximize your results by avoiding highly pigmented foods and beverages. Common tooth stainers include:
Coffee, black tea, and dark soda
Red wine and dark beer
Ripe berries
Tomato pasta sauces
Dark chocolate
Tobacco
In addition to being conscious of what you expose your tooth enamel to, keep up with your excellent dental hygiene habits -- brushing for two minutes, twice a day, and flossing your teeth once a day. Visit your dentist every six months. As teeth begin to lose their luster in the months following your in-office treatment, you can use your touch-up kit as needed to increase the brightness of your smile once again.
Let's Get Started!
If you are ready to reveal your brightest, whitest smile, why not contact us to discuss in-office teeth whitening? Opalescence® Boost Whitening reveals dramatic results in just one visit. Contact our dental office to learn more or to request your visit today!