Porcelain Veneers – Northeast Lincoln, NE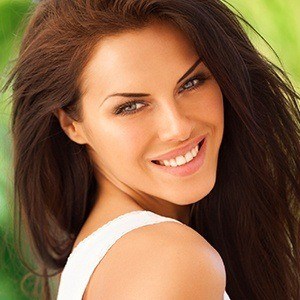 If you're living with an imperfect smile, we want to share something with you. Porcelain veneers can work true miracles for chipped, cracked, broken, or otherwise damaged teeth. Thin, durable coverings made of beautiful white porcelain, dental veneers are like an instant smile do-over. So, how do porcelain veneers from our Northeast Lincoln, NE cosmetic dentist work? And are dental veneers painful? Continue reading to find the answers to these and other important questions from the team at Williamsburg Dental.
How Do Dental Veneers Work?
Quite simply, dental veneers work by completely covering up your smile imperfections. They're applied to the front surface of the teeth that show when you smile, instantly enhancing the size, shape, color and overall appearance of teeth. Because they are only used for making cosmetic improvements to a smile, dental veneers should not be applied to teeth that are weak or decayed.
What Are the Benefits of Dental Veneers?
For patients reluctant to show their imperfect smiles, there are numerous advantages to choosing cosmetic dentistry -- and porcelain veneers offer by far the most dramatic transformation available with a single treatment. Some of the most common benefits associated with porcelain veneers include:
Fast, minimally-invasive procedure
Veneers offer transformative smile results
Porcelain is durable and long-lasting
Dental veneers correct a number of imperfections all at once
Porcelain a highly stain-resistant material, so your veneers stay white from day one
Cared for properly, dental veneers can last for more than a decade
Are Dental Veneers Painful?
Many patients are fearful of one thing at the dentist -- discomfort. Fortunately, the procedure for dental veneers is minimally invasive, and local anesthesia is available every step of the way to ensure you feel no discomfort at the treatment site. Williamsburg Dental also offers nitrous oxide and oral conscious sedation if you'd like a little extra comfort throughout your procedure for dental veneers. So to answer the question, are dental veneers painful? No. In fact, with current offerings in modern dentistry, chances are good you'll never feel discomfort at the dentist again.
What's the Procedure for Porcelain Veneers?
Once you've decided that porcelain veneers are the transformation your smile needs, you'll be pleased to know the treatment is completed in just two visits to Williamsburg Dental. The first appointment is for discussing your smile goals and preparing your teeth to receive the veneers (a process that involves removing a bit of the tooth enamel to make room for the veneers). We'll send an impression of your teeth along with our notes on your smile to our trusted lab, where your veneers will be created just for you. Once they're ready, you'll come back to our dental office for their final placement.
More Questions? Ready for Your Porcelain Veneers? Contact Us Today!
If you've got additional questions regarding dental veneers, or if you'd like to go ahead and schedule your appointment for veneers at Williamsburg Dental, please don't hesitate to get in touch with our dental office. We warmly welcome patients from South Lincoln, NE, Hickman, Crete, and the surrounding areas. Request your appointment today!