Nightguards for Bruxism & TMJ Dysfunction – Northeast Lincoln, NE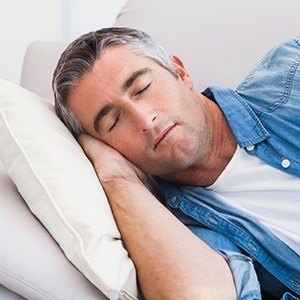 TMJ disorder and bruxism are terms for two oral health conditions that are often used interchangeably. In fact, however, they are distinct issues that can be related to one another, and in some cases, they can both be treated with nightguards for bruxism and TMJ dysfunction in Northeast Lincoln, NE.
Bruxism is the dentist's terminology for teeth grinding and clenching. TMJ—which stands for temporomandibular joint—disorder refers to a condition that results from the misalignment of the joint that connects your lower or mandibular jaw to your skull. These joints are located on either side of your face just in front of your ears and allow you to open and close your mouth in order to chew, speak, laugh and yawn.
Signs and Symptoms of Bruxism
Bruxism is often a physical response to stress. You may recall a time when you were under pressure or frightened, so you clenched your teeth. This is perfectly normal. However, problems can ensue when this response happens subconsciously, usually at night while you are asleep.
In addition, bruxism can be caused by misalignment of your TMJ—the same joint involved in TMJ disorder.
You may be completely unaware of your habitual teeth grinding, but Dr. Long may be able to see signs of unusual wear to your teeth. Other symptoms include:
Teeth sensitivity because of worn enamel
Muscle pain in your face
Feeling like you have an earache, but no sign of infection
Disrupted sleep
Symptoms of TMJ
Some of the signs that point to bruxism are also indicative of TMJ disorder. In addition, you may notice:
Feeling like your jaw is locked or stuck in a certain position
A clicking or popping sound when you open and close your mouth
Persistent headaches
Jaw, neck and shoulder pain
Swelling along the side of your face
An uncomfortable bite, as if your upper and lower teeth don't fit together properly
This commonality of symptoms is often the reason that people think of bruxism and TMJ as one and the same condition.
Treating Bruxism and TMJ
Despite their differences, bruxism and TMJ can both be treated with an oral appliance called a nightguard. This mouthpiece is made of smooth plastic and fits comfortably over your upper and lower teeth to prevent them from touching while you sleep. Thus, a nightguard lessens the effects of teeth grinding and clenching, and it can also shift your teeth into a more correct position so your bite improves. Worn nightly, a nightguard can relieve the painful symptoms of both bruxism and TMJ disorder.
If you are experiencing any of the uncomfortable symptoms of teeth grinding and clenching or TMJ disorder, please contact our dental office to schedule a consultation at Williamsburg Dental. We welcome patients from Lincoln, Walton, Prairie Home, Cheney and all of the surrounding areas.