Root Canal Therapy – Northeast Lincoln, NE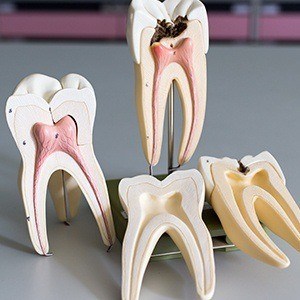 Have you ever heard someone remark, "I'd rather have a root canal"? Well, if you've ever experienced the pain of an infected tooth then you know that you really would rather have a root canal. Unfortunately, this common dental procedure has developed a bad reputation. In truth, however, root canal therapy from our Northeast Lincoln, NE dentist, will eliminate your pain and preserve and restore a tooth that is compromised by bacterial infection.
The Structure of a Tooth
To understand how a tooth can become infected, you first need to know how a tooth is built. Essentially, every tooth in your mouth has three layers. The outer layer is called enamel. This layer of calcified tissue covers the crown of your tooth and is the hardest substance in the human body. Below the enamel is dentin, a somewhat softer material that is filled with millions of tubules that relay feeling to the nerve of a tooth. The final layer at the center of each tooth contains nerve, blood and lymph tissue. This core is called the pulp chamber and it branches off to the roots.
When your tooth is healthy, this chamber is well protected by the enamel and dentin layers. However, if there is advanced decay or a deep crack or fracture, normal oral bacteria can access the pulp chamber and lead to infection. As the infection develops, the chamber becomes inflamed and painful. Other signs of tooth infection include:
Swelling on the side of your face
Fever
Extreme tooth sensitivity to hot or cold
A sore on the gum near the infected tooth
Swollen glands in your neck
The Root Canal Procedure
A root canal at Williamsburg Dental is usually performed during one or two appointments. Your dentist will examine x-rays of the infected tooth and administer a local anesthetic. Then, an opening is drilled in the crown of your tooth and small hand instruments are used to clean out the pulp chamber and attached root canals. Once disinfected, the hollow space is filled with a rubber-like substance called gutta-percha. This biocompatible material expands to fill the space and prevent the re-entry of bacteria. Then, a temporary filling is placed to seal the opening and protect the tooth. Your dentist may also prescribe an oral antibiotic to further treat the infection.
Once we're certain that your tooth has healed, you'll return to Williamsburg Dental to have a crown placed over the tooth. With this, your tooth is once again functional and will look like a natural tooth.
If you or a loved one is experiencing a toothache, then please contact our dental office to learn more about root canal therapy or to schedule an appointment at Williamsburg Dental. We welcome patients from Lincoln, Walton, Prairie Home, Cheney and all neighboring communities.