Invisalign – Northeast Lincoln, NE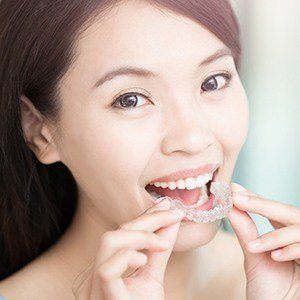 If you're tired of your crooked teeth, we've got good news for you. There's a method for straightening improving the alignment of your bite -- and it's one that doesn't involve the use of metal brackets and wires. It's Invisalign in Northeast Lincoln, NE, and the team at Williamsburg Dental is thrilled to offer this option for older teens and adults who want to improve their smiles with clear braces. Continue reading to find out how Invisalign works, how Invisalign compares to traditional braces, and whether or not Invisalign is right for you.
How Invisalign Straightens Teeth
Teeth that are gapped, crowded, or that suffer from crossbite, underbite, or overbite can be improved with Invisalign. The system uses a series of clear plastic aligners that place focused pressure on different parts of the teeth throughout the treatment. After about a year (the average time it takes to correct moderate misalignments), the Invisalign treatment is complete, and a clear retaining device will be prescribed to maintain this new, improved alignment.
The benefits of undergoing orthodontic treatment are considerable -- and they are more than just cosmetic. In addition to improving the way your smile looks, correcting the alignment of your teeth also…
Increases oral health by making it easier to brush thoroughly and floss between all teeth
Improves jaw health by taking pressure off the TMJ, or temporomandibular joint
Reduces occurrences of nighttime teeth grinding
Can encourage stronger self-confidence and lead to an improved quality of life
Comparing Invisalign with Traditional Braces
The main differences between Invisalign and metal brackets and wires include the following.
Traditional Braces
Highly noticeable in the smile
Affixed to the surface of teeth
May irritate cheeks, gums, or tongue
Treatment averages 18 months
Brackets and wires are frequently broken
Invisalign
Practically invisible
Removable before meals and cleaning
Smooth plastic is non-irritating
Average treatment completed in one year
Removable plastic trays are more durable
While both traditional braces and Invisalign are good options for correcting the alignment of teeth suffering from mild to moderate orthodontic issues, Invisalign is the preferred option for busy adults, image-conscious teens, or those simply looking for a little more privacy throughout their orthodontic treatment.
Good Candidates for Invisalign
If you're an adult or teen interested in improving the alignment of your teeth with clear braces, chances are excellent that you're an ideal candidate for the Invisalign system. The only way to know for sure is to schedule an appointment with an Invisalign provider! Invisalign corrects the following issues.
Crowded teeth
Gapped teeth
Underbite, crossbite, or overbite
All patients should undergo a dental screening before undergoing any type of orthodontics. Instances of tooth decay or gum disease should be addressed before or alongside their Invisalign treatment.
If you're interested in learning more about Invisalign, including whether or not it may be the subtle solution you and your smile have been waiting for, don't hesitate to get in touch with Dr. Long at Williamsburg Dental! Our dental office is located in Lincoln and we happily serve patients in Walton, Prairie Home and Cheney, too. Request your appointment today!