Children's Dentistry – Northeast Lincoln, NE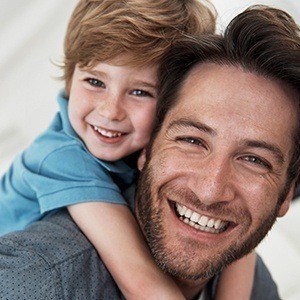 At Williamsburg Dental, our team loves seeing our youngest patients smile. Regular dental care couldn't be more important for children, and we want to help put your child on the path to a lifetime of healthy teeth and gums. For cavity prevention, hygiene education, and more, children of all ages should receive a checkup and cleaning every six months. Find out more about children's dentistry in Lincoln, NE below!
Your Child's First Dental Visit
It may seem early, but your child should visit the dentist around the time his or her first tooth erupts. Regular checkups and cleanings should begin no later than her first birthday. This first appointment is important for introducing your little one to the sights, smells, and sounds of the dentist's office. It is also a chance for you to ask any questions you may have about how to keep your baby's smile healthy. Baby bottle tooth decay is a special risk, and we can discuss its prevention in these first few appointments.
To protect your child's teeth from baby bottle tooth decay, make sure to…
Clean the gums and any existing teeth after each feeding
Massage gums in the areas without teeth
Prevent your child from falling asleep with a bottle
Only fill bottles with milk, formula, or water
Prevention for Older Children
Your child will be able to brush her own teeth by the time she can tie her own shoes, or around age six. Make sure you continue to monitor and assist your little one as she brushes to help her get a thorough clean. Children are the most vulnerable to cavities from ages six to 14, and special preventive measures can help to protect her tooth enamel from the acids and bacteria that cause decay. Dental sealants and fluoride treatments provide significant prevention.
Dental sealants are thin plastic shields that are painted directly onto the surface of the back teeth, or the molars. These back teeth are at a higher risk of developing decay because they are covered in nooks and crannies that make proper cleaning difficult. But the thin dental sealant is enough to protect the tooth enamel for years after its application.
Fluoride is well-known for its ability to strengthen tooth enamel for protection against cavities. Its quick application at the end of your child's regular checkup and cleaning can provide significant help in the prevention of tooth decay.
Helping Your Child Maintain Good Oral Hygiene
Wondering what you can do at home to help your child enjoy healthy teeth and gums? Dental hygiene for your little one doesn't look much different from your own. Discuss with your child the importance of brushing for two minutes, twice a day, and flossing daily. If you meet resistance, consider making brushing and flossing a family affair. Your little one may be more inclined to clean her teeth when she sees everyone else doing it, too. Schedule appointments every six months to allow us to remove the plaque and tartar that cavities, and to catch issues early when they do get the chance to develop.
Schedule Your Child's Appointment Today!
When was the last time your little one visited the dentist? If it's been more than six months, she is missing out on crucial preventive care. Contact Williamsburg Dental to schedule an appointment with your children's dentist today!