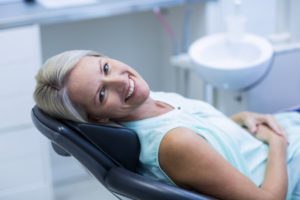 Are you satisfied with the appearance of your smile? Do you feel like it could use an upgrade? Whitening your teeth may be the solution you're looking for, and many of our patients have had success with the process. Your team at Williamsburg Dental can help you determine if teeth whitening in Lincoln is right for you. Here are some of the options we offer.
In-Office Whitening
Do you have a vacation or big event coming up? Would you like to see immediate results? Williamsburg Dental offers convenient in-office whitening treatments with a product called Boost! that is proven to deliver teeth that are 8-10 shades lighter after only 1 appointment. Boost! is powerful enough to achieve the results you want, but gentle enough to reduce sensitivity and discomfort.
Take-Home Whitening Trays
We also offer custom made whitening trays that you can use at home to whiten your teeth based on your own schedule. We start by taking impressions of your teeth, which we will use to create your trays. After ensuring a proper snug fit, we'll show you how to safely apply the whitening gel in a manner that protects your gums and soft tissue from injury.
We suggest whitening for two weeks initially, or until you've achieved your desired results. Now you'll have your trays available to brighten your teeth at home anytime you like because you'll always be able to purchase additional tubes of whitening gel from Williamsburg Dental.
Protecting Your Investment
Once you've invested in whitening treatment, and you're enjoying your beautiful new smile, you'll want to protect your investment. Here are some things you can do to keep your teeth white and bright:
Avoid certain foods that cause discoloration such as marinara, curry sauce, soy sauce, and berries.
Follow a consistent brushing and flossing regimen at home.
Avoid certain beverages that can cause staining such as coffee, dark colas, tea, and red wine.
Visit your dentist regularly for professional cleanings.
Contact Williamsburg Dental
Would you like to learn more about how teeth whitening can improve your smile? Give your Lincoln dentist a call today!