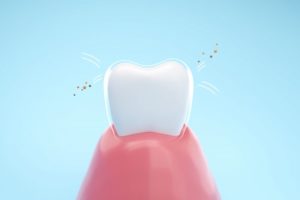 Take a moment to think about and appreciate how strong your teeth are. Enamel, the outside layer of teeth, is the strongest material in your body, and it experiences tremendous force when you bite and chew. However, enamel is far from being indestructible, and once it's gone, it's gone for good.
So how can you make sure your enamel lasts as long as possible? What are the potential risks against it? Keep reading to find out!
Decay
Two of the greatest dangers against your tooth enamel are bacteria and acids in your mouth. When you eat sugary, starchy, or acidic foods, harmful bacteria flourish, producing acid that erodes the protective layer of enamel. This is how tooth decay starts!
You can combat cavities by selecting healthy foods in your diet as well as brushing and flossing every day to prevent plaque, which houses bacteria, from building up. You also must visit your dentist at least twice every year for checkups and cleanings. This appointment is essential for preserving your enamel because the sooner a cavity is identified and treated, the less enamel you lose. Plus, the cleaning stops future decay!
If you struggle with cavities, you may also want to consider using a fluoride mouthwash, which naturally reinforces enamel. Your dentist also offers fluoride treatments to help protect your teeth in between appointments.
Injury
Like your bones, your tooth enamel can break when it receives a strong hit. Whether you're playing sports, fall off your bike, bite into something too hard like ice, or suffer another injury with a blow to the face, dental emergencies are common and can lead to lost tooth structure that can't be regrown.
To shield your teeth from a hard impact, you should consider wearing a mouthguard when you play sports—even if you don't think there'll be much contact with others. This oral appliance can absorb hits to the face so your teeth don't suffer the consequences.
Wear and Tear
Unfortunately, simply using your teeth every day can negatively impact your enamel. As you chew hard foods and even brush your teeth a little too aggressively, a tiny bit of enamel can wear away. Over time, this can add up to a significant amount!
Unfortunately, some of the natural wear and tear on your teeth is unavoidable. However, you can try to brush gently, but still thoroughly, and avoid bad behaviors that can lead to faster enamel loss like chewing ice. You can also try to strengthen your teeth by using a fluoride mouthwash every day and getting fluoride treatments when you visit the dentist for your checkup and cleaning.
If you want to keep your pearly whites for the long haul, you need to take care of your enamel and try to avoid these main risks. Being careful now means that you can enjoy your natural teeth for a lifetime!
About the Practice
If you live in Lincoln, chances are that there is a Williamsburg Dental location nearby. We have six offices in the Lincoln area staffed by nine total dentists, each of whom has dedicated many, many hours to continuing training to bring the best care to you and your family. If you are due for a checkup and cleaning appointment, don't hesitate to reach out to the location nearest you or contact us online here.