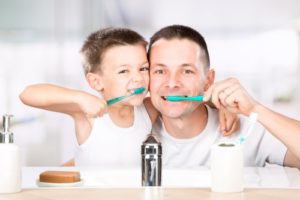 Whether they're chowing down on raisin pie or munching on their favorite candy bar, kids are all about sugar — which is one of the reasons why it's so important to teach them good dental habits. If you don't instill in your kids from an early age how vital it is to take care of their pearly whites, they may end up suffering from tooth decay and other issues that lead to costly and unpleasant dental procedures. Your children's dentist in Lincoln offers some tips to help your kids adopt a fantastic oral hygiene routine.
Set the Example
You can tell your kids, "Do as I say and not as I do," but that is unlikely to work. They need to see you taking care of your own teeth. Let them see you brush your teeth every morning and evening, floss daily, and rinse with a fluoride-containing mouthwash. Also, when it's time for your twice-yearly visits to your Lincoln dentist, don't complain or express any fears you might have. Children naturally want to be just like mom and dad, so your actions can go miles toward encouraging them to have the healthiest smiles possible.
Make It Fun
If your kids think that brushing their teeth is boring, it's time to switch things up a bit! Here are a few ideas to put a little more pizzazz into the daily oral health routine:
Turn brushing time into story time. You might pretend that the toothbrush is a valiant hero out to vanquish a dreadful villain — that is, tooth plaque.
Use high-tech gadgets. Electric toothbrushes make brushing easier and more fun. You might also switch out traditional floss in favor of a water flosser.
Enlist help. If your little ones don't want your help brushing their teeth but they're not old enough to do it thoroughly on their own, use a sock puppet with a dentist persona to get the job done.
Gross Them Out
There's nothing like a little dose of fear to encourage your kids to take care of their teeth. Use pictures and videos to show them what happens when oral hygiene falls by the wayside. You could use photos of rotted teeth, or you could search for animated videos that show what bacteria does when it is left to gather unhindered on teeth.
Another idea is to use a product that stains plaque on teeth. These tablets or liquids highlight spots in the mouth that have plaque, and when your kids get a glimpse of all the grossness going on in there, they're bound to be more enthusiastic about brushing and flossing.
You want your children to grow up to have teeth that last a lifetime, so do all you can to help them adopt good dental habits.
About the Author
The doctors at Williamsburg Dental take pride in helping children and their parents achieve beautiful, healthy, and functional smiles. They offer general dentistry services as well as more specialized services in order to provide comprehensive dental care. If it's time for your child's next visit to the dentist, or you just have questions or concerns about your child's oral health, contact the office via the website or by phone at 402-420-2222.