Teeth Whitening – Crete, NE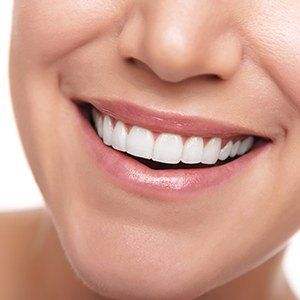 Want to turn back the hands of time? Have your teeth whitened. Studies show that people who have white teeth are estimated to be significantly younger than their peers. In addition, people with white smiles are considered to be smarter, friendlier and even more successful. With everything teeth whitening from our Crete, NE cosmetic dentist has going for it—and everything you can have going for you with a whiter smile—why not have your teeth whitened at Crete Family Dental? We offer both an in-office whitening system for the speediest results and a take-home kit, as well.
What Dulls a Smile?
Several factors contribute to our smiles becoming stained and discolored as we age. First and foremost are the foods and beverages we consume most often. Coffee, tea, cola, tomato sauce, soy sauce, blueberries, chocolates—all of these and more leave deposits on the enamel surfaces of teeth. Another cause of extrinsic stains is the tar in smoking and chewing tobacco. With time, these extrinsic stains alter our teeth's natural color.
Intrinsic stains occur below the enamel in the dentin layer of a tooth. This type of stain can happen as a result of treatment with the antibiotic tetracycline as the tooth was forming, excess fluoride consumption or traumatic injury to a tooth.
Removing Extrinsic and Intrinsic Stains
To remove stubborn extrinsic and intrinsic stains, we use Opalescence®. In addition to removing surface stains, the whitening ingredients in Opalescence penetrate a tooth's enamel to reach discolored molecules in the dentin. Opalescence breaks apart these deep stains and lifts them away. The entire treatment only requires about one hour in our dental office. When you leave, you'll have a smile that can be up to 10 shades whiter than when you arrived.
On the other hand, if you have a schedule that doesn't even allow for one more appointment, then we have a take-home whitening system, as well. With this, we'll make custom-fitted mouth trays and provide you with a professional strength whitening formula. For the next couple of weeks, fill the trays with gel and wear them for the amount of time Dr. Rossini recommends. You can wear the trays and gel any time of day that is convenient for you. Results will be noticeable after just one treatment, but the most remarkable whiteness will appear after about two weeks of whitening.
Contact our Crete, NE dental office today if you are ready to enjoy the benefits of a new white smile. We also welcome new patients from the nearby areas of Hallam, Seward, Dorchester and beyond.