Dental Crowns & Bridges – Crete, NE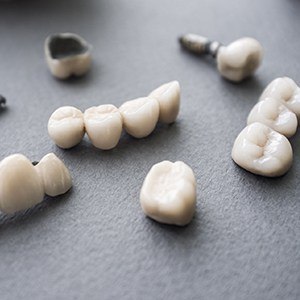 At Crete Family Dental, our team understands that decayed teeth, injured teeth, and even missing teeth can happen to anyone. What's most important is that these issues are not allowed to linger indefinitely, causing more serious oral health concerns. Thankfully, Dr. Andre Rossini provides quality crowns and bridges to replenish lost tooth structure. Our dental crowns and bridges in Crete, NE are virtually unbreakable, and all-ceramic options are available as well for patients who want to maintain a lifelike appearance. Contact our Crete, NE dental office today to schedule an appointment! We also serve the areas of Pleasant Dale, Clatonia, and beyond.
Dental Crowns
A dental crown is designed to completely cover (or "cap") an individual tooth, significantly improving its health, appearance, and even position within the smile. There are several reasons Dr. Rossini may recommend having a crown placed, including:
Restoring a large area of decay that's too severe for a filling
Rebuilding the structure of a badly injured or fractured tooth
Protecting a weak tooth from the threat of fracture
Giving an aesthetically flawed tooth a gorgeous makeover
Restoring a dental implant
Restoring a tooth that's undergone root canal therapy
Dental Bridges
If you're missing one or more teeth, our team may recommend having a dental bridge placed to prevent remaining teeth from shifting to fill the empty space. This leads to a misaligned bite over time, as well as higher risks of gum disease and TMJ disorders. Your new bridge is designed to span the distance of the missing teeth over a single arch, with additional crowns serving as "anchors" that fit over nearby healthy teeth, cementing the restoration in place.
How do crowns and bridges work?
Both crowns and bridges require two to three appointments to complete in our Crete, NE dental office. First, the tooth or teeth affected by this treatment need to be slightly altered to accommodate the change. Then, we take impressions and send them to a trusted dental lab, where they create the finished product. In the meantime, Dr. Rossini places a temporary restoration over the vulnerable area so the patient doesn't experience more than minimal disruption in their everyday life. Finally, the patient returns to our dental office once we've received the permanent crown or bridge so we can securely place it and ensure a satisfying fit.
Dental bridges and crowns should be cared for with routine check-ups at Crete Family Dental and diligent oral hygiene at home. Patients also need to avoid eating especially hard foods, as this could cause breakage. Many properly maintained cases last for the rest of the patient's life.