Children's Dentistry – Crete, NE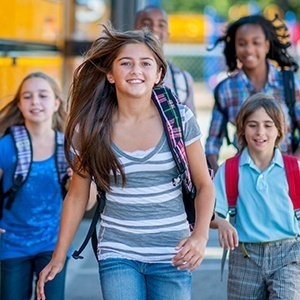 As a father himself, Dr. Rossini knows just how precious your children are to you. That's why he and the staff at Crete Family Dental strive to give your kids exceptional children's dentistry in our Crete, NE dental office. Our dental office is a comfortable and non-threatening place for children, and we do our best to make each one of their visits here pleasant and even a bit fun!
Children's Dentistry Begins Early
The American Academy of Pediatric Dentistry recommends that parents schedule their child's first visit to the dentist before the age of one year. This may seem quite early—in fact, they may only have a few teeth—but this early visit gives Dr. Rossini the opportunity to check the development of their smiles and their overall oral health. Those tiny pearly whites have important roles to play. Throughout the toddler and early childhood years, primary teeth (more commonly known as baby teeth) are placeholders for your child's permanent teeth. And, of course, they also are integral to the ability to eat and enjoy a nutritious diet, as well as their gradual learning of language and speaking clearly.
Children's Dental Checkups
Children should begin seeing Dr. Rossini for regular dental cleanings and exams by the time they are three years old. Just like mommy and daddy's checkups, these should be scheduled every six months. At their first visit, we'll count and examine their teeth, check for signs of decay or gum disease, and clean their teeth.
One of our dental hygienists will also review proper at-home oral hygiene with you and your child. Even if your child wants to be a big boy or girl and brush "all by myself," they really do need your help until they are at least seven or eight years old. Adequately cleaning back teeth and flossing properly can be difficult for little hands. So, we suggest you let them try, but make sure you complete the task thoroughly.
Specialty Treatments from your Children's Dentist
In addition to the basic elements of a dental checkup, your children may benefit from fluoride treatments and dental sealants. Fluoride is a natural mineral that strengthens tooth enamel; it is applied topically as a gel, foam or varnish and then rinsed away. This can be helpful for children whose teeth may be particularly susceptible to tooth decay whether because of genetics or an affinity for sweet treats.
Likewise, dental sealants also protect against tooth decay. The sealant is painted on your child's molars and then dried with a curing light. This hard, plastic barrier blocks debris and bacteria from accumulating and causing a cavity.