Dental Implants – Crete, NE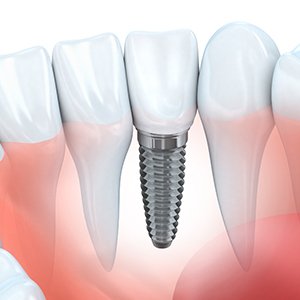 One or more lost teeth can have dramatic repercussions on not only a patient's oral health, but their self-confidence and quality of life as well. Here at Crete Family Dental, Dr. Andre Rossini strongly recommends dental implants as the exceptional reconstructive solution you deserve. Patients enjoy a wonderfully full smile, as well as improved beauty, function, and long-lasting durability. Contact our dental office today if you'd like to learn more about our gentle, personalized approach to care, or if you're ready to schedule a consultation to discuss tooth replacement with dental implants in Crete, NE. We're located in Crete, NE, and we welcome new patients from Cortland, Hickman, and beyond.
The Dental Implant Process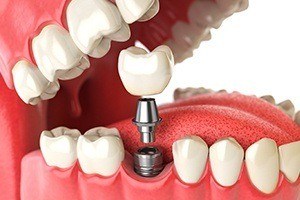 Patients need generally good oral health and adequate jawbone density to support dental implants. If these conditions aren't met, additional procedures may be required beforehand. Once Dr. Rossini has determined that you're a good candidate for the procedure, the first step will be to place implants within the jawbone. While many dental offices refer patients to outside specialists for this procedure, our team performs it in-office for a more comfortable experience overall.
Once the implants are placed successfully, patients undergo a period of healing. This allows the implants to form a bond with your natural bone and soft tissue creating a durable foundation. After this is complete, it's time to return to Crete Family Dental so Dr. Rossini can design and place custom-made restorations completing the procedure.
Dental Implant Restoration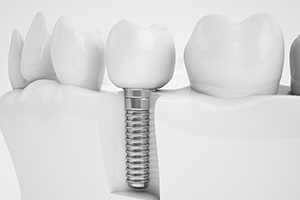 The restoration depends on the extent of the patient's tooth loss and their personal preference. Dental crowns are used to seamlessly rebuild individual teeth replaced with an implant, but this option becomes complicated and expensive if there are several teeth to restore. In these cases, Dr. Rossini may recommend an implant-retained prosthetic, designed to attach to multiple implants at once. The result is sturdy and lifelike, with both fixed and removable options available.
Dental implants offer patients exceptional benefits compared to more traditional tooth replacement solutions, including:
Unlike their counterparts, dental implants actually the entire structure of the tooth instead of just the crown (the white portion that makes up your smile). By providing a new tooth root, patients are able to better maintain oral health and facial appearance as years go by.
Dental implants can be treated just like regular teeth, no inconvenient changes to your diet or oral hygiene routine required.
Dental implants don't compromise the health of surrounding natural teeth like bridges and dentures making them a more conservative solution.
Implants have exceptionally high success rates among patients. As long as they're cared for properly with oral hygiene at home and professional maintenance at our Crete, NE dental office, they last for 30 years, 40 years, or even the rest of the patient's life.
Dental Implant Frequently Asked Questions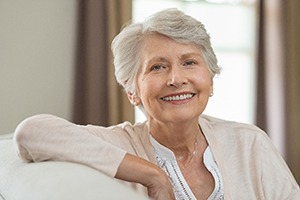 It's always better to have questions ready prior to your consultation. Below is a list of some of the most frequently asked questions we hear at Williamsburg Dental. If your question isn't listed, don't hesitate to contact our dental office as soon as possible! We'd be more than happy to clarify any confusion you may have about treatment.
Do Dental Implants Fail?
When planned and placed by a professional, the risk of a dental implant failing is incredibly low. In fact, the success rate for dental implants averages between 95 and 98 percent. With that said, infection of the gum tissue surrounding the implant, or peri-implantitis, can cause the implant to fail.
Are Dental Implants Good for My Oral Health?
It is true that dental implants prevent neighboring teeth from shifting into the open spaces of your smile, just like bridges and dentures. However, dental implants are the only tooth replacement option that prevents future bone loss and as a result, future tooth loss. They also help gum tissue maintain overall volume, which is important to protecting the roots of neighboring teeth.
How Long Will They Last?
Dental implants are designed to last for several decades without worry of needing a replacement. This cannot be said for dentures and bridges, which typically need replacement every several years. Dental implants typically will last for a minimum of 25 years, but in most cases they last the rest of the patient's life.
Does it Hurt to Receive Dental Implants?
Prior to your treatment, the dentist or oral surgeon will numb your mouth to prevent any discomfort from being felt as the implant is inserted into your jaw bone. Of course, those who want to feel more comfortable can opt for sedation dentistry if they'd like. After your surgery, your gum tissue will feel mildly sore, but this is normal for any type of oral surgery.
What Does Daily Care Look Like?
Many patients are pleased to hear that caring for their dental implants is largely identical to caring for their natural teeth. Additionally, the restorations used to restore dental implants are made from inorganic material, meaning they cannot develop decay like tooth enamel. Just make sure to brush and floss underneath the implant where the gum tissue lies as this area can still become infected if not properly maintained.