Invisalign – Crete, NE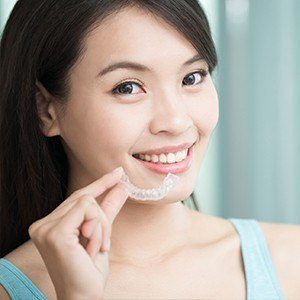 Do you want to know a secret? Dr. Rossini can put braces on your teeth and hardly anyone but you and he will ever notice. How? With clear braces treatment using Invisalign® in Crete, NE, you can enjoy all the benefits of orthodontic braces without having to endure the unsightly appearance of metal braces or the discomfort and hassle of frequent tightening appointments.
The Invisalign® Difference
Like traditional braces, Invisalign® can correct a number of orthodontic issues such as overbites, underbites, cross bites, rotated or crooked teeth and gaps between teeth. However, unlike traditional braces there are no metal brackets and wires to distract anyone or cause abrasions and sores in your mouth.
Invisalign® is an orthodontic system that uses clear aligners made of smooth, BPA-free plastic to move your teeth. The aligners are arranged in sets—one for your upper arch of teeth and one for the lower arch. You'll wear each set for two weeks, toss them away and then advance to the next set. Each pair of aligners is designed to build on the progress of the ones prior. With time, you will begin to see your teeth come closer and closer to straight alignment. The entire treatment process usually lasts between one and two years.
The Invisalign® Process
Before beginning your orthodontic treatment, you'll need to schedule a dental cleaning and exam. Dr. Rossini will want to ensure the health of your smile before taking any steps to straighten your teeth.
Next, with x-rays, photographs and molds, Dr. Rossini will work in coordination with the Invisalign® lab to develop a treatment plan that includes a 3D visualization of how your teeth will move. This sneak peek allows patients to see what their smiles will look like before they even wear their first set of aligners.
Invisalign® sends your clear braces to Crete Family Dental and we'll dispense them to you at regular intervals. All you have to do is wear your aligners for at least 22 hours each day and watch your teeth gradually become straighter and straighter.
The Invisalign® Advantage
Aside from being practically invisible, Invisalign® clear braces offer the additional advantage of begin removable. Therefore, you will be able to eat all the foods you normally enjoy. With metal braces, certain foods can break the brackets or dislodge wires. Nothing is off-limits with Invisalign®, however, including that bucket of popcorn at the movies, carrot sticks and dip, and those chewy, homemade toffees that grandma makes!
But after you eat, be sure to brush and floss your teeth. With Invisalign®, even this is easier, too. Just take off your aligners and you can maintain your normal oral hygiene routine.
Invisalign® Frequently Asked Questions
Even with all this information, you may still have questions about Invisalign® treatment. Before you start any procedure, our team wants you to be completely sure and confident that it is the right choice for you. To make that happen, we've responded to some of the most commonly asked questions about Invisalign®. Please review this information, but let us know if you have other questions that aren't discussed here. Our team can schedule a consultation for you and provide the information you need to make the best decision for your smile.
Does Invisalign® treatment hurt?
When you first start wearing your aligners and transition to each new set, you may experience a little soreness as you adjust. This just means that treatment is working! Plus, this discomfort should subside after a couple of days. Otherwise, the smooth, completely customized plastic should feel comfortable against your tongue, lips, and cheeks.
Can I drink with my aligners in?
Other than water, all fluids will stain your aligners in one way or another. Coffee, juice, dark wine, and dark soda can become trapped in the aligners, but even white wine, clear soda, and other light drinks can steadily discolor your aligners, drawing the wrong kind of attention to your smile. The best way to keep your aligners transparent and "invisible" is to keep them clean and stain free, which means you need to remove your Invisalign® aligners when you take a drink—unless it's water.
How do I maintain my aligners?
Since you'll be switching your clear aligners out about every two weeks, you may think that you don't need to take good care of them. However, your aligners can quickly lose their transparency and cause tooth decay or other problems if they are neglected. Every day, after you've brushed and flossed your teeth, gently brush your Invisalign® aligners and rinse them with cool or warm water. When you eat, be sure to thoroughly clean your teeth before putting your aligners back in to prevent debris from interfering with your treatment.
How much does Invisalign® treatment cost?
The costs associated with Invisalign® treatment depend on too many factors for us to provide a general estimate online. During your consultation with us, we'll formulate a treatment plan customized to your smile and your needs. With that information, we can then go through your financial options, work with your dental insurance benefits (if applicable), and give you an estimate on the cost of treatment.
Will dental insurance help cover Invisalign® treatment?
Some dental insurance plans cover a portion of the cost of Invisalign® treatment. Others do not. Our experienced team can take a look at your plan and help you maximize your benefits. We also can help you apply for financing through CareCredit to break up the cost into easy monthly payments.