Meet Our Piedmont Dentists
Our Piedmont dental office is staffed by a team of highly-experienced dentists who are committed to giving everyone in Lincoln a smile they are always proud to show off. Each one has attended some of the finest educational institutions in all of dentistry and continue to refine their skill set by taking continuing education courses every year. When you come to Williamsburg Dental Piedmont, you can trust that your smile is always in good hands. Below, you can get to know our fantastic doctors a little better.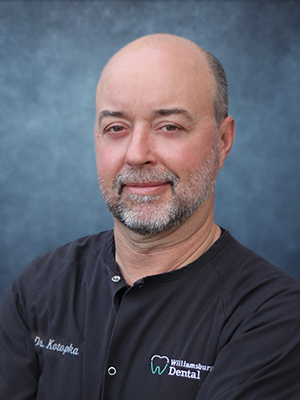 Michael Kotopka, DDS
Dr. Kotopka is a proud Nebraska educated dentist, having graduated from Lincoln Southeast, University of Nebraska, and UNMC College of Dentistry. After Dental School he spent three years as a captain in the US Air Force participating in an Advanced Education in General Dentistry residency that took his family to Langley AFB in Virginia and Brooks AFB in San Antonio.
The Kotopka's returned to the good life in Nebraska in 1997 and Dr. Mike has practiced in the same dental office ever since.
He and his wife Ann have seven children who keep them very busy. The oldest is currently studying for his PhD at Stanford and the youngest has just recently begun school.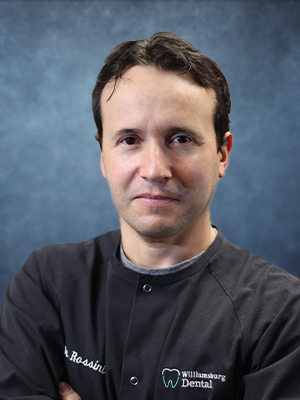 Andre Rossini, DDS
Dr. Andre Rossini grew up in Brazil and received his first DDS degree at the capital of Paraguay, where he practiced dentistry for 3 years. He then earned a Master of Arts in teaching from UNL and attended the College of Dentistry at the University of Nebraska Medical Center in Lincoln to earn his second doctorate.
Dr. Rossini and his wife Laura have been proud Lincoln residents for the past 10 years. Dr. Rossini's wife is a teacher for Lincoln Public Schools, and the couple have a little girl named Nina who can speak English, Spanish and Portuguese.
Dr. Rossini enjoys volunteering as a dentist at the Lincoln People's City Mission Free Medical Clinic and at Nebraska's Mission of Mercy. His family also enjoys outdoor activities such as riding Lincoln's trails, camping at America's National Parks, and playing soccer. They regularly participate in sports at Spikes, Abbott Sports Complex, and the Bison Sports Arena.
Dr. Rossini and his wife are happy to call Lincoln their home and look forward to seeing their daughter grow up in this community.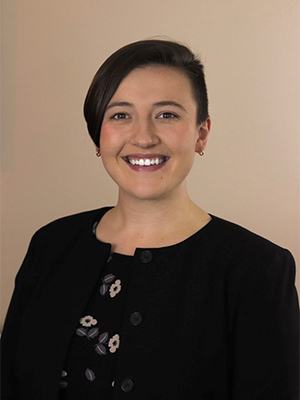 Brianna Kay, DDS
Dr. Brianna Kay was born and raised in Norfolk, Nebraska. She earned her Bachelors degree with Honors and Distinction from the University of Nebraska at Lincoln. She went on to earn her Doctor of Dental Surgery degree from the University of Nebraska Medical Center. Dr. Brianna has earned multiple grants and awards to travel to conduct dental research and service in Ethiopia. She has a strong commitment to these international relationships and looks forward to continuing these projects throughout her career.
Dr. Brianna loves connecting with patients and motivating them to maintain great oral health. She values being a patient and compassionate provider who takes time to educate patients on how to prevent cavities and gum disease.
Outside of the office, Dr. Brianna enjoys finding new board games to play, growing houseplants and bonsai trees, and spending time with her partner Kendra and Australian Shepherd, Teddy.