Meet Our Dentists
Our practice is staffed by two highly-experienced dentists who are committed to giving everyone in Lincoln a smile they are always proud to show off. Dr. Wenninghoff has attended some of the finest educational institutions in all of dentistry and continues to refine his skill set by taking continuing education courses every year. When you come to Williamsburg Dental Village Drive, you can trust that your smile is always in good hands. Below, you can get to know our fantastic doctors a little better.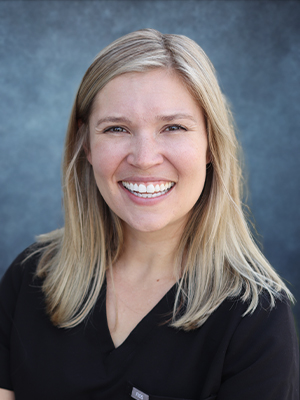 Amy Wenninghoff, DDS
Originally from North Dakota, Dr. Amy Wenninghoff attended dental school at the University of Minnesota. She is happily married to a Wahoo, Nebraska native -- and that's what brought her to our great state to complete her residency in Omaha. But before that, she earned a Bachelors in Spanish from the University of North Dakota. She's happy to be able to discuss dental treatment with Spanish-speaking patients.
Today, Dr. Wenninghoff enjoys treating smiles of all ages, "from babies all the way to grandma and grandpa," she says. She's also passionate about enhancing the appearance of the smile with minimally-invasive composite dentistry. No matter the treatment or type of care she's providing, Dr. Wenninghoff is committed to one principle: she'll never take a one-size-fits-all approach for any patient.
Dr. Wenninghoff is a member of the Lincoln Young Professionals Group, the American Dental Association, the Nebraska Dental Association, and the Lincoln District Dental Association. She is also a member of St. Michael's Parish in Lincoln. In her free time, Dr. Wenninghoff enjoys getting outdoors, including fishing, golfing, and going for walks with her husband, daughter, and dog.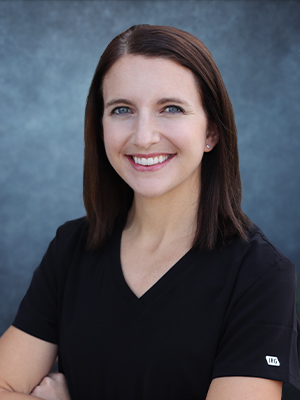 Danielle Wasielewski, DDS
Dr. Wasielewski is a brand-new addition to our dental practice, and she can't wait to start helping the patients here at Williamsburg Dental enjoy happier, healthier smiles for life. She was born and raised right here in Lincoln, NE, and she currently has three and half years of experience in dentistry and counting. She achieved her Bachelor of Arts in Chemistry from Nebraska Wesleyan University and then pursued her Doctor of Dental Surgery at the University of Nebraska Medical Center College of Dentistry. Today, she pursues continuing education in a variety of different topics, including Invisalign and dental implant restorations.
What Dr. Wasielewski enjoys most about her job is being able to take care of each patient's dental needs so well! She loves this city and the people here in the community, and she truly wants the best for all of them when it comes to their ongoing oral health. She will do anything she can to provide the best treatment possible. Plus, she loves working with an amazing group of doctors who are always discussing cases together and improving their methods for the sake of the patients! She regularly provides a wide variety of services, including dentures, bridges, crowns, root canal therapy, extractions, and Invisalign.
Dr. Wasielewski is the proud mother of two kids. Their names are Ryker (one year old) and Avery (five years old), and both of them light up her home. She and her husband Rick were actually high school sweethearts, and they love caring for their children and seeing them learn new things every single day. When she isn't busy at the office, she enjoys reading. Usually, she's busy with reading children's books for her special loved ones, but every once in a while, she manages to sneak some time in to enjoy a book of her own.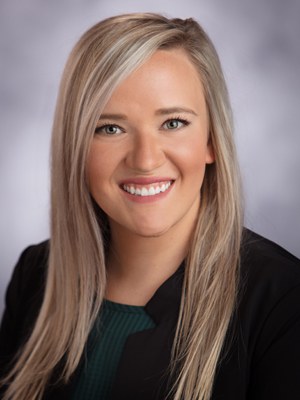 Callie Krajicek, DDS
A Husker through and through, Dr. Callie grew up in Lincoln and knew she wanted to come back to the area after school. She grew up helping out on the family cattle farm near Aurora and enjoyed spending her weekends and school breaks there helping her family. She learned later that her love of people and helping them made the world of dentistry sound like the perfect calling for herself. Dr. Callie is a creative person and loves that dentistry involves a certain amount of artistic ability. Days when patients leave the office after achieving their most beautiful and desired smile are most rewarding for her.
Dr. Callie earned her doctorate from Creighton University School of Dentistry and is certified in Invisalign and minimal oral sedation. She is currently a member of the American Dental Association and Nebraska Dental Association. Outside of work, Dr. Callie enjoys traveling and being able to experience new places and people. She loves spending time outside hiking or inside reading. Dr. Callie is a very personable doctor who's interests include trying new restaurants, theatre, podcasts, dogs, the TV series The Office, and all things coffee.