Meet Our Lincoln Dentists
Our dental office is staffed by two highly-experienced dentists who are committed to giving everyone in Lincoln a smile they are always proud to show off. When you come to Williamsburg Dental Village Drive, you can trust that your smile is always in good hands. Below, you can get to know our fantastic doctors a little better.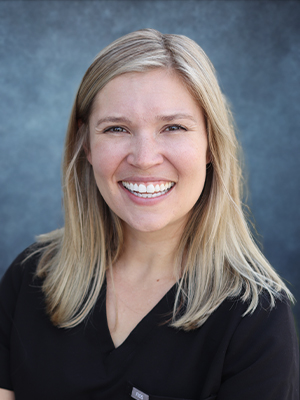 Amy Wenninghoff, DDS
Originally from North Dakota, Dr. Amy Wenninghoff attended dental school at the University of Minnesota. She is happily married to a Wahoo, Nebraska native -- and that's what brought her to our great state to complete her residency in Omaha. But before that, she earned a Bachelors in Spanish from the University of North Dakota. She's happy to be able to discuss dental treatment with Spanish-speaking patients.
Today, Dr. Wenninghoff enjoys treating smiles of all ages, "from babies all the way to grandma and grandpa," she says. She's also passionate about enhancing the appearance of the smile with minimally-invasive composite dentistry. No matter the treatment or type of care she's providing, Dr. Wenninghoff is committed to one principle: she'll never take a one-size-fits-all approach for any patient.
Dr. Wenninghoff is a member of the Lincoln Young Professionals Group, the American Dental Association, the Nebraska Dental Association, and the Lincoln District Dental Association. She is also a member of St. Michael's Parish in Lincoln. In her free time, Dr. Wenninghoff enjoys getting outdoors, including fishing, golfing, and going for walks with her husband, daughter, and dog.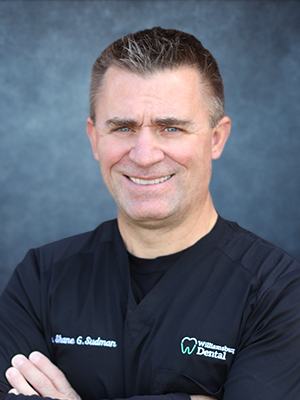 Shane Sudman, DDS
Dr. Sudman was born and raised in Nebraska City, Nebraska. He started working at an early age on my Grandfather's farm and his other grandfather's roofing and siding business. When he was around 12 years old, his mother asked him what he wanted to be when he grew up. He immediately said he wanted to be a dentist. No one in his family was a dentist and no one in his family had gone to college.
He graduated from high school in 1991 and went to University of Nebraska-Lincoln for his undergraduate degree and began pre-dental studies. After three years of undergraduate pre-dental studies, he was accepted into University of Nebraska Medical Center College of Dentistry in 1994. He graduated from UNMC Dental School in 1998, and then moved to Chicago. He completed a one year Pierre Fauchard Academy fellowship in a private group practice in 1999. After completing the fellowship, he became an associate at a private practice on the Southwest side of Chicago. He practiced and owned his own dental office for over 20 years in the suburbs of Chicago while living in the city of Chicago. He then moved back to Nebraska after having children to be closer to family.
Dr. Sudman has two daughters Belen and Shay. When he's not working, he enjoys working out, golfing, waterskiing, boating, snowmobiling, snow skiing, and spending as much time with his daughters as possible. Something you wouldn't know about Dr. Sudman, he is a Metallica fan and has two tattoos of his daughters' names on his arms. He really enjoys being a dentist and can't imagine doing or being anything else.